Are you a Senior Leader? Join our September Peer Mentoring Circle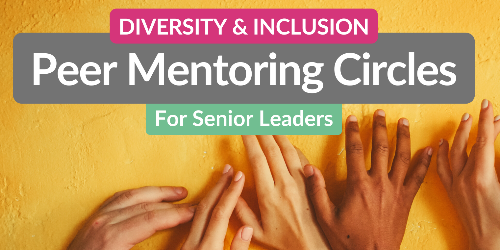 Thu, 22 September 2022
13:00 – 13:45 BST

In our Peer Mentoring Circles you can raise a D&I question or a personal work-related challenge in a safe confidential space with your peers
About this event
In our Peer Mentoring Circles you can raise a D&I question or a personal work-related challenge in a safe confidential space with your peers.
Do you wish you had someone with whom to talk through specific challenges or your D&I initiatives?
Would you benefit from meeting others in similar circumstances and learning from each other?
Are you a senior leader who feels underrepresented or without support?
In our Peer Mentoring Circles, you can raise a D&I question or a personal work-related challenge in a safe, confidential space with your peers from different sectors.

In these facilitated virtual sessions with other senior leaders, we can help you find new ways of looking at your situation and generate practical ideas. You will benefit from others' experiences, from sharing common issues and producing quality thinking and problem solving as a group within a supportive environment.

WHO IS THIS FOR?

These sessions are for you if you are in a senior position and any of the following applies to you:

• You feel your organisation isn't inclusive enough and you'd like to meet allies to support your drive for change

• You would like some confidential and impartial input and support from your peers

• You are keen to move further forward with Diversity and Inclusion but you're not sure how, and you would welcome some external ideas and inspiration

• You sometimes feel like a lone voice in your organisation

• You still don't feel fully included, or you fear you aren't being taken seriously

• You feel that some of your more junior colleagues undermine your authority because you're different from the other senior leaders in your organisation.

Join one of our Peer Mentoring Circles to get support for your Diversity & Inclusion challenge.

FURTHER DETAILS:

Circles are free of charge and will take place every other month (except August and December). The Circles are limited to a maximum of 10 people each time, so that everyone's voice is heard.

FAQs

Will the Circles be held online or in person?

Sessions will remain online for the foreseeable future. That way, wherever you are in the UK or the world, you can still join us.

Will the sessions be confidential, and will they be recorded?

All group members will agree to confidentiality and the sessions will not be recorded.

What sort of things will we talk about? That's up to you. What issues are you currently grappling with? For example, are you struggling to gain the recognition you deserve? Are you finding resistance to meaningful D&I initiatives from other senior leaders? Are you suffering from Imposter Syndrome connected to a recent or upcoming promotion?

Do I have to bring a challenge?

Typically, we only have time for 2 challenges in each session, so you don't have to bring a challenge. Participants generally find they learn a lot from discussing others' challenges.

What if my challenge wasn't chosen and I still need an answer?

We offer complimentary 30-minute 'Ask Me Anything' sessions. Just book a time with one of our Diversity and Inclusion consultants.

Who else will be there?

Most people that join in are in a senior role and experiencing challenges around D&I.

www.eventbrite.co.uk/e/peer-mentoring-circles-tickets-372800354897?aff=ebdsoporgprofile&ct=t(EMAIL_CAMPAIGN_8_15_2021_13_23_COPY_01)&mc_cid=1ccda72776&mc_eid=aa46176a0c