ASSESS 2020 Congress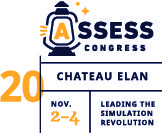 The ASSESS 2020 Congress is organized by the ASSESS initiative to help lead the investigations to advance the "Simulation Revolution."

The ASSESS Initiative is growing in memberships and Congress attendance as attendees contribute their perceptions, opinions and their own struggles in bringing the "Simulation Revolution" into the future. These members and attendees are open to sharing and developing new ideas that facilitate a more encompassing use of Engineering Simulation. The willingness to cast aside titles and company names continues to be the heart of the congress and allows a freedom of understanding and collaboration concerning the leadership role that can benefit the movement forward for Engineering Simulation.