This Website is not fully compatible with Internet Explorer.
For a more complete and secure browsing experience please consider using
Microsoft Edge
,
Firefox
, or
Chrome
Webinar | Vehicle design: how to address 2021 challenges in CFD simulations?
Webinar | Vehicle design: how to address 2021 challenges in CFD simulations?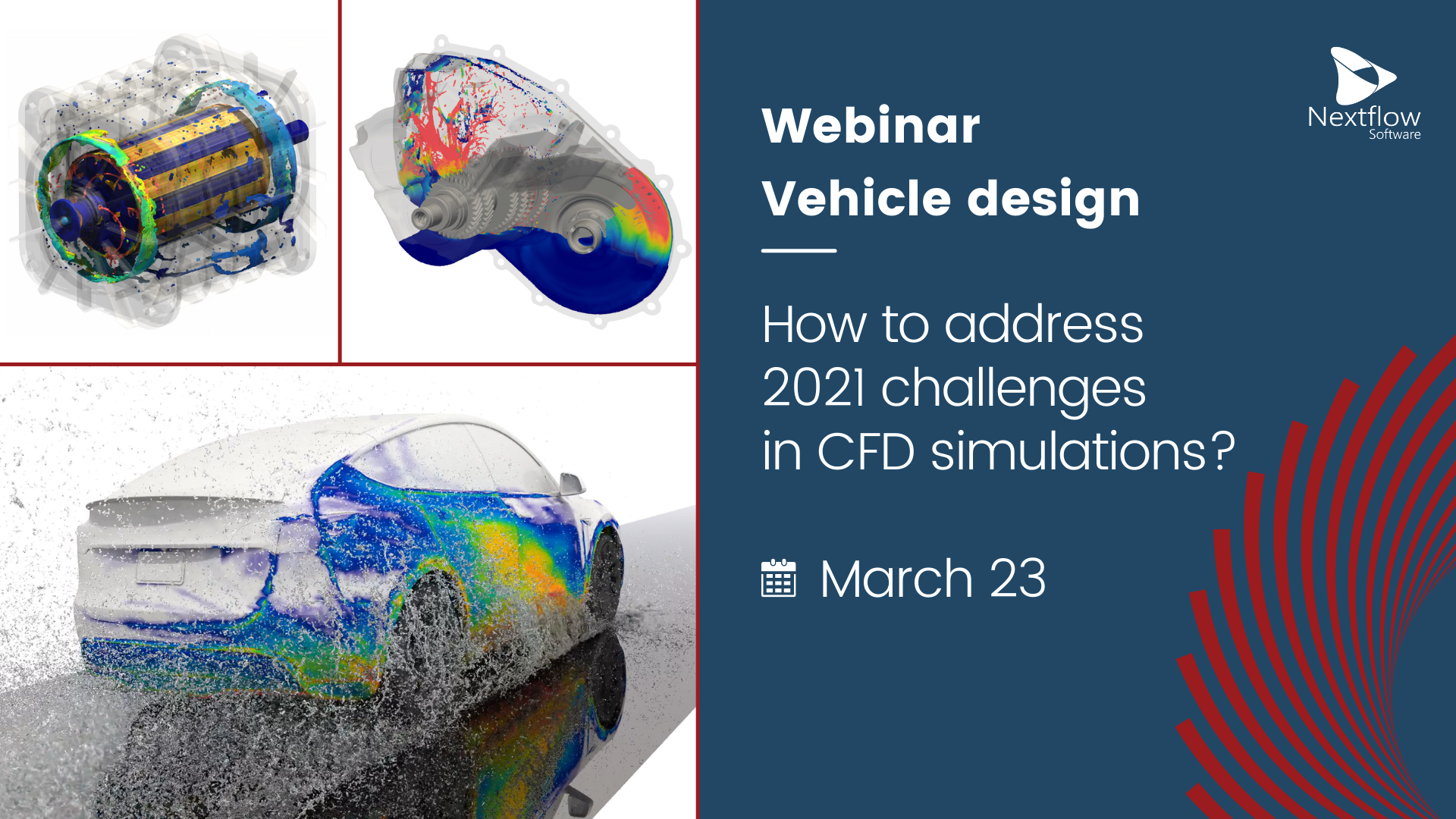 - Registration link : app.livestorm.co/nextflow-software/webinar-vehicle-design-how-to-address-2021-challenges-in-cfd-simulations?type=detailed

- Free live webinar
- 10:00am – 10:45am (Central Standard Time)
- 4:00pm – 4:45pm (Central European Time)

-----
👉 You are an automotive OEM or a supplier and…
- You need to improve design performance without increasing costs?
- You are looking for optimization and light-weighting, while reducing design time?
- You are tired of struggling with meshing?
- You are facing new product design and safety requirements that demand new fluid performance?
- You know that understanding how Fluid-Structure Interaction (FSI) impacts product life-cycle is critical, yet you struggle with accurately predicting lifecycles?

🔎 You will learn about…
Learn how to upgrade CFD capabilities to:
- Reduce design optimization costs,
- Solve more challenging fluid problems without meshing,
- Predict problems with FSI.

Our presenters will demonstrate key Smoothed-Particle Hydrodynamics (SPH) method's capabilities, which help automotive designers/engineers solve 2021 challenges:
- Understand SPH method key advantages and its features
- Run SPH method in:
.Powertrain applications (lubrication, cooling, leaking etc)
.Water management applications (rain management, wading, soiling etc)
.Other applications (oil leak, aquaplaning etc)


🧑‍🎤 Meet the speakers

✹ Edouard Lété | VP sales | Nextflow Software
Mechanical engineer from Brussels university, Edouard has a long experience in realistic simulation. He has worked in several companies, more recently for Dassault Systèmes SIMULIA. During his career, he has constantly worked on simulation's democratization by extending its scope and addressing new application domains.

✹ Julien Candelier | Application Eng. Manager | Nextflow Software
Engineer from Arts et Métiers eng. School, Julien has obtained his PhD on Fluid Dynamics & Aeroacoustics at CEA, the French Commission for Alternative Energies and Atomic Energy. Julien has been working on the SPH method for the last 10 years. He is in charge of applying the SPH-flow solver to customer projects at Nextflow Software.
Details
Event Type: Webinar
City:
Country: France
Date: 23 Mar 2021