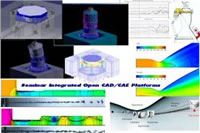 This event combines the aforementioned seminar with the NAFEMS 2007 AGM, which will be held in the same venue at 15:45 on December 6th. The AGM is open to all NAFEMS members and any interested parties
To register for the seminar and AGM, as well as view further detail on the seminar contacts, please visit the ESTEC Congrex website.
The seminar brings together a number of key players in European aerospace engineering in order to get an overview of the status of engineering analysis quality, verification and validation for CAD/CAE.

The objectives are:
To provide an occasion for dissemination of achievements, development work and plans;

To identify the main bottlenecks in today's mechanical engineering analysis and simulation landscape;

To identify improvement targets to be met in the mid-long term - e.g. 5 years from now;

To discuss potential modes of cooperation or projects for research and development (in ESA, EU and other frameworks).
In order to focus the presentations and discussions, aerospace mechanical engineering will serve as the primary application domain for examples. However, it is expected that the majority of issues related to the objectives are quite generic and exist across all industrial sectors.

The following points have been identified as particularly relevant:
requirements and operation of quality management systems for engineering analysis and, more particularly, their translation into rules, guidelines and checks on engineering mathematical models;

ensuring that the analysis is fit for purpose e.g adequate building, execution and archiving of models and choice of analysis methods;

justifying modelling choices in a traceable and consistent way;

managing at organisation/team level the training in numerical methods, modelling and transfer of knowledge.
Agenda
08:30     Registration
08:45     Welcome by ESA & NAFEMS
An Overview of the ASME PTC 60 / V&V 10 Guide for Verification and Validation in Computational Solid Mechanics
L. Schwer, Schwer Eng

Validation of Structural Finite Element Models at ESTEC: Recent Experiences and Future Developments
A. Calvi, ESA/ESTEC

CAE to CAD: Reverse Engineering within the Design Process
P. Bartholomew, NAFEMS CAD/CAE WG
10:35     Refreshment break
Integration of Design & Analysis for Composite Structures
A. Prior, SIMULIA

Semantic Web Technologies for the Management of Engineering Analysis Activities and Data
D. Leal, Caesar Systems

FE Fitness for Purpose Why? How? Who?
P. Hopkins, EADS Astrium UK

Final title to be advised
J.F. Imbert, Airbus
13:00     Lunch break
Ariane 5 Solid Propellant Booster Stages: Effects after their Impact on Sea
N. Couty, Principia & R. Bodagala, CNES

Substructuring Applications and Model Verification
R. Helfrich, INTES

Strategies for Design Analysis Reuse and Error Handling
C. McMahon, University of Bath

Robustness and Reliability in a Multi-Disciplinary Design Process
G. Van den Bergh, NOESIS
15:30     Closure of the Seminar & NAFEMS Annual General Meeting
Visit the ESTEC Congrex website for full details and registration.