Improving Robust Design through Engineering Simulation
Improving Robust Design through Engineering Simulation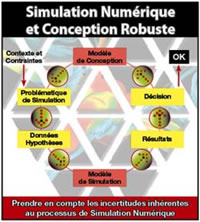 This seminar will be held in Paris, France on June 7th 2007, and will be run exclusively in French.
The use of Engineering Simulation in the design process necessarily creates numerical uncertainty which impacts the quality and the robustness of the products and processes you design. The seminar aims to clarify these issues and help to design more optimised and more reliable products.
For full details on the seminar, please switch your language preference at the top right of this page to "Francais".