Practical Stress Analysis & Finite Element Methods
Three day course -
December 1st, 2nd and 3rd 2009.
---
****This course has now reached maximum capacity, and no further registrations can be taken for the December event.****
The course will run again on March 9th at the same location.
Click here to view details of the March course.
---

FEA has become widely used and universally accepted in many industry sectors. In order to derive maximum benefit from the available technology, engineers should learn about the many strengths of numerical techniques. At the same time, recommendations on how to avoid the inevitable pitfalls will prove invaluable at a later date.
NAFEMS, the only independent not-for-profit organisation with the aim of promoting the effective and reliable use of FEA, addresses this requirement by providing this three day example-driven, practical course. The course offers excellent guidance on how to judge which approximations are acceptable and appropriate for solving a wide range of practical problems. Of equal importance is the manner in which the results are interpreted. Advice is provided which allows the correct decisions to be taken, based on results which are known to be reliable. Interaction is encouraged throughout the course, with the planning and design of a complete FEA project and examples of simple hand calculations, mesh designs and solution designs being set for the class to complete. The course is completely code independent.

Who Should Attend?
This course is aimed at practising engineers who wish to learn more about how to start applying finite element techniques to their particular problems in the most effective manner. The material that is presented is independent of any particular software package, making it ideally suited to current and potential users of all commercial finite element software systems. This course is a must for all engineers aiming to use FEA as a reliable predictive tool for thermal, stiffness and stress analysis.
The course is open to both members and non-members of NAFEMS.
Course Programme
Day 1
The purpose of the first day is to revise the basics of stress analysis - the priority being the treatment of static problems with the use of free-body diagrams. These same diagrams will be essential to a well-planned Finite Element Analysis as they highlight the load path within the structure - this is paramount to our understanding of the problem and the generation of a reliable computer model.
Units and Conversions
Weight, Mass and Inertia
Free-Body Diagrams
Direct Stress and Strain
Shear Stress and Strain
Bending Stress
Thermal Stress Effects
Properties of Materials
Basics of Fatigue and Impact
Stiffness Calculations
Day 2
The purpose of the second day is to obtain an overview of what a modern-day Finite Element system can provide in terms of solution capabilities, treatment of non-linear effects and the likely accuracy that we can expect. Coupled to this overview, the internal workings of the method are exposed by solving simple problems in a long-handed fashion to properly undertand the primary unknowns, the reactions at constrained nodes, and the methods for calculating strains and stresses.
Basic Theory of FEA
Displacement and Load Control
Introduction to 1D FEA Problems
Introduction to 2D FEA Problems
Limitations of Linear Analysis
Boundary Non-Linearity
Material Non-Linearity
Geometric Non-Linearity
Introduction to 3D Problems
Processing CAD Data for FEA
Day 3
Day three examines the use of the Finite Element system in an industrial setting. This requires that sensible decisions are made in order to predict a realistic result in a reasonable amount of time and effort. Understanding the problem is paramount and a wide range of problems are solved in order to illustrate the changes in result that can occur when different assumptions are used. The third day also covers a basic introduction to contact and plasticity.
Design of Pressure Vessel FEA
Fast and Accurate Meshing Methods
Implementation of Natural Loads
Design of Realistic Constraints
Balanced Loads/Minimum Constraint
Statically Determinate Reactions
Application of Material Models
Hints and Tips for Contact Models
Worked Example with Plasticity
Results Interpretation and Checking
Course Tutor

Bob Johnson has presented courses on behalf of NAFEMS for over 10 years, and is recognised as one of the leading figures in the engineering analysis community in the UK. Bob is a well-respected consultant with a wealth of industrial experience.
His lively presentation style puts over the key concepts in a manner which involves participants fully in the course material.
He is also a qualified NAFEMS Registered Analyst at Advanced Level. In addition to being a regular contributor at international conferences and Technical Editor of the BENCHmark magazine .
Venue
The Legacy Falcon Hotel
Chapel Street
Stratford-upon-Avon
CV37 6HA
Tel: 0844 411 9005
Website: http://www.legacy-hotels.co.uk/legacy-thefalcon/
Ideally located in the heart of Stratford Upon Avon, birthplace of William Shakespeare, is The Legacy Falcon Hotel a 16th Century Inn. The hotel is just five minutes walk from Stratford-upon-Avon train station and also has free on-site car parking.
Accommodation
We have secured a limited number of rooms at the venue hotel, at a special rate of £80, including VAT on a bed & breakfast basis. Please contact the hotel directly, quoting reservation number 61010 , to book rooms at the discounted rate. This reduced rate is applicable to NAFEMS delegates until mid of November.
Details
Event Type: Course
Location: Stratford Upon Avon UK
Date: December 1, 2009

An opportunity to ensure that your organisation gets maximum benefit from using FEA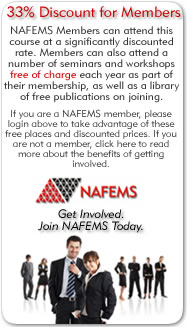 Events - Cancellation Policy
Please note NAFEMS cancellation policy for all UK events is as follows:-
Cancellation up to 3 weeks before the event date: free of charge;
Cancellation up to 1 week before the event date: 75% of registration fee non-refundable;
Cancellation up to 1 week before the event date: all seminar credits non-refundable;
No show at the event: 100% of registration fee non-refundable;
NAFEMS will discuss the possibility of transferring to an alternative event/course, however an administration charge will be applicable.
This policy is subject to change.