Composite Products from Concept Design to Manufacturing - July 24-25, 2009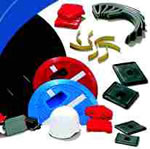 Over the past three decades, the terminology of Composite Materials has been well acknowledged by the technical community. Composite Materials have been gaining exponential acceptance in diverse industries. They are serving as competitive substitutes for traditional structural and functional materials to realize current and future trends imposed on high performance structures. Striking examples are in the field of transportation vehicles (aircraft, space shuttle and automobile), civil infrastructure (buildings, interiors and highway barriers) and sporting goods (F1, golf club, sailboat) etc. This is rendered possible owing to an improved understanding of their performance characteristics, application, potentials, especially innovative and cost-effective manufacturing processes.
Composite Materials are strong, lightweight, and corrosion resistant, as well as expensive to manufacture and not widely used in large-scale industrial applications. The development of knowledge in application of composites used in the industry is an ongoing process. Considerable benefits offered by composites have yet to be fully exploited, as knowledge and understanding grow, composites will play an increasingly significant role. Lower composite manufacturing costs would accelerate this trend in cost-sensitive industrial mass markets.
Composite Materials are extensively used in automotive, aerospace and other allied industries because of their inherent advantages over the conventional metallic materials. There has been tremendous rise in the use of such materials in the last decade. This led to the research and development programme carried out globally in this field. In India, the number of R&D establishments, industries and academic institutions are actively engaged in research and development activities in the field of Composite Materials.
Present methods of manufacturing composites are too labor intensive or too product specific to work efficiently. Design for Manufacturing (DFM) approach integrating best practices of the manufacturing process should be introduced in design so that the best product can be produced in a shortest possible time with limited resources. One major goal is to reduce the cost of manufacturing while optimizing overall performance of the product.
The focus of the symposium was to help the participants:
To develop the basic skills required for the overall appreciation of composite product development process
Learn the analysis to do a quick check on the preliminary design
To perform detailed analysis and optimize the critical zones of the structure
To develop the overview of manufacturing techniques required for becoming a good designer and analyst
Event Proceedings
Speakers with rich professional and research expertise in the field of Engineering Composite materials and its applications addressed the participants. A few of the Speakers were ... 
Dr. H.V. Lakshminarayana
Professor, Dept. of Mechanical Engineering Dayanand Sagar College of Engineering Bangalore
Mr. S.S. Subramanya Sastry
Lead Consultant, InfoTech Enterprises Ltd
Dr. S. Sridhara Murthy
Joint Head, Structural Technology Division NAL
Dr. V. Ramachandra
Scientist, Advanced Composites Division NAL
Dr. Ramesh Sundaram
Scientist, Advanced Composites Division NAL
Dr.R. Gopalan
Executive Director, Composite Technology Park