Finite Element Analysis - A Universal Tool for Engineering Analysis
a joint workshop organised in association with DesignSpokes Software and Services Ltd.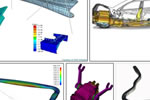 Finite Element Analysis (FEA) has become widely used and universally accepted analysis procedure in all engineering sectors and science branches be it mechanical, civil, aerospace or physics, chemistry etc. In the present day scenario of such development, engineers and scientists can derive good benefits from such techniques by learning the strengths and shortcomings of this method. The 2-day workshop aims for interactions with industry experienced professionals.
This workshop offers excellent guidance on how to do FEA, which of the approximations are acceptable and appropriate, errors and their elimination, validation and quality aspects etc. for a wide range of engineering analysis problems. Of equal importance is the manner in which the results are interpreted and suggestions based on results are provided, which allows the correct and reliable decisions to be taken. The workshop is completely independent of commercially available CAE codes .
Importance of workshop for the organizations using FEA
The salient aspects of this workshop are –
The subject matter will be handled by experienced professionals of FEA.
This course will offer vital guidance in solving the practical problems.
The methods of verifying and validating the FEM results will be demonstrated with real world case studies.
The globally recognized NAFEMS benchmark standards for FEM will be explained.
Each participant will be provided with quality training notes.
Overall, this programme is designed to enhance the functional knowledge of young FEA users in the practical application of FEA.
Who Should Attend?
This course is aimed at practicing engineers who wish to learn more about how to apply finite element techniques to their particular problems in the most effective manner. This workshop addresses the needs of those industries wherein FEA jobs are regularly carried out. The contents of this programme are specially designed keeping the needs of the junior and middle level analysts who have to apply FEA techniques for solving practical stress analysis problems.
The workshop is open to all including members and non-members of NAFEMS.
For further information, and to register your attendance please contact NAFEMS India directly using the details below -
Elangovan Kariappan
elangovan.kariappan@nafems.org
NAFEMS India
Tel: +91 80 25618798
Fax: +91 80 25618789