Introduction to FEA Analysis - Training Course
Introduction to FEA Analysis:
An opportunity to ensure that your organization gets maximum benefit from using FEA
3-Day Training Course (March 24th - 26th, 2009)
This is a NAFEMS accredited course.
---

FEA has become widely used and universally accepted in many industry sectors. In order to derive maximum benefit from the available technology, engineers should learn about the strengths of numerical techniques and how to apply them. At the same time, guidance on how to avoid the inevitable pitfalls will prove invaluable throughout the engineer's career.
NAFEMS, the only vendor neutral, not-for-profit organization with the aim of promoting the effective and reliable use of FEA, addresses this requirement by providing this three day example-driven, practical course.
The course offers excellent guidance on how to assess and plan the task of carrying out a structural analysis using FEA. A clear understanding of the objectives of each analysis is vital and a road map for achieving this is presented. A review of the tradeoff between available resource and analysis methodology is given.
Students are shown the various approximation methods and how to judge which are acceptable and appropriate for solving a wide range of practical problems. Practical considerations of loadings, boundary conditions and structural details are shown by numerous examples.
Of equal importance is the assessment and interpretation of results. A process is shown which provides confidence in the results and aims to provide conservative, reliable and qualified results.
Interaction is encouraged throughout the course, with the planning and design of a complete FEA project and examples of simple hand calculations, mesh designs and solution designs being set for the class to complete. The course is completely code independent.
---

Who Should Attend?
This course is aimed at practicing engineers who wish to learn more about how to apply finite element techniques to their particular problems in the most effective manner. The material that is presented is independent of any particular software package, making it ideally suited to current and potential users of all commercial finite element software systems. This course is a must for all engineers aiming to use FEA as a reliable predictive tool for thermal, stiffness and stress analysis.
The course is open to both members and non-members of NAFEMS.
---
Course Program
Day 1
Finite Element Analysis Overview
FEA and CAD
FEA Basic Principals
Element Selection
1D element background
1D element case studies
2D element background
2D Plane Stress/Plane Strain/ Axi-Symmetric methods
2D element case studies
Stress Interpretation
Stress Concentration Effects
Errors and Error checking
Day 2
3D element background
3D element case studies
Design of Loading and Constraints
Balanced Loads/Minimal Constraint
The Analysis Objective
Introduction to the Real World in 3D
Processing of 3D CAD Data
Preparing CAD Data for Analysis
Fast and Accurate Meshing Methods
Day 3
Results Interpretation/Verification
Project Examples
Best Practice in Industry
Getting Help When Things Go Wrong
Summing up the Process
Introduction to Non Linear Analysis
Introduction to Composites
Introduction to Dynamic Analysis
Additional Student material or questions
Course review
---
Course Tutor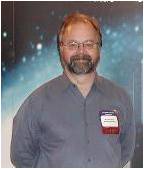 Tony Abbey has created and taught a wide range of FEA based training classes over the past 15 years. He has developed a reputation for providing the student with an experience that is full of insight gained from his extensive experience, but which also challenges and motivates. Tony has been working with FEA for over 30 years, both in Industry and for FEA software providers in the UK and the US. He currently runs his own FEA consultancy company.
His informal and interactive presentation style allows the key concepts to be taught in a manner which involves participants fully in the course material.
Tony presents papers at NAFEMS and other conferences on a regular basis and has been involved with NAFEMS since its formation.
---
Location
---
Hotel Information
---
Directions
---
NAFEMS Travel Policy: NAFEMS is not responsible for the purchase of non-refundable airline tickets or the cancellation/change fees associated with canceling a flight. Please call to confirm that the course is running before purchasing airline tickets. NAFEMS retains the right to cancel a course up to 3 weeks before scheduled presentation date.
---
Contact the Organizer
If you are interested in attending this course, please contact the organizer, Matthew Ladzinski, using the form below, or call NAFEMS North America at 1-704-248-2628.
Purchasing Details
Members Price: FREE
Non-Members Price: FREE
Order Ref: NACOURSE_MAR09
Event Type: Course
Location: Los Angeles, CA USA
Date: March 24, 2009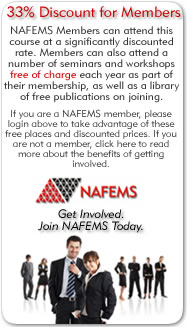 *Special discounts are being made available to members for this course. For more information on joining NAFEMS, please visit our membership section .
---
Events - Cancellation Policy
Please note NAFEMS cancellation policy for all NA events is as follows:-
Cancellation up to 3 weeks before the event date: free of charge;
Cancellation up to 1 week before the event date: 75% of registration fee non-refundable;
Cancellation up to 1 week before the event date: all seminar credits non-refundable; (if applicable )
No show at the event: 100% of registration fee non-refundable;
NAFEMS will discuss the possibility of transferring to an alternative event/course, however an administration charge will be applicable.
This policy is subject to change.