Sponsorship and Exhibition Opportunities
Join us...online!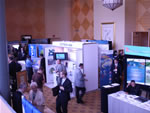 We would like to extend an invitation to your company to be part of the NAFEMS North American 2010 Virtual Conference – NAFEMS 2020 Vision of Engineering Analysis & Simulation , to be held at an ON24 virtual conference facility on November 15-16, 2010.
There are several outstanding opportunities available for your company to sponsor or exhibit at the conference, giving you maximum exposure to a highly targeted audience of delegates, who are all directly involved in simulation, analysis, and design. The NA 2010 Virtual Conference will provide you with an opportunity to connect with hundreds, if not thousands, of contacts from around the world.
Team with NAFEMS
As the only International Association for the Engineering Analysis Community, NAFEMS is widely held to be the leading independent source of information and training for engineering analysts and designers at all levels. Sponsors and exhibitors will have the chance to promote their participation prior to the event through the various sponsorship packages we are offering. Your participation in this conference will provide a positive impression of your company's commitment to best practices in the area of engineering simulation. NAFEMS 2020 provides an excellent opportunity for promotional and product / project awareness, and direct access to technology leaders.
A Unique Opportunity
The NAFEMS NA 2010 Virtual Conference presents a unique opportunity by providing a forum where all individuals, worldwide, can represent their solutions in a single location to a large number of potential clients, and collaborate with other vendors in this field. What better way to justify your participation at this event!
For more information on the virtual conference facility, please click here .
Benefits
So what are the benefits of sponsoring and exhibiting at a NAFEMS virtual conference?
Promote your company to a large but highly focused group of individuals who have a pre-qualified interest in your product
Establish important contacts within the Industry
Increase your company's visibility and standing in the analysis community
Showcase your latest product releases and service offerings
Discover exactly what your target market needs from you, and what trends are emerging across the industry.
Opportunities
Sponsorship is an excellent way of raising the visibility of your company with the delegates, many of whom are in a position to influence, or approve, the purchase of software, hardware, and consultancy solutions. The different options are outlined below and all provide many benefits to your company. Your presence at this online conference will provide you with excellent exposure.
Sponsorship Packages
---
For a full description of the sponsorship packages, download the following PDF:nafems_na_2010_exhibition_and_sponsorship_opportunities_new_.pdf

NAFEMS 2010 VC Links
Platinum Sponsors

Gold Sponsor
Silver Sponsors

Bronze Sponsors

Industry Analyst Sponsors