An Introduction to Dynamic FE Analysis
2-Day Training Course : An Introduction to Dynamic FE Analysis
Many problems facing designers and engineers are dynamic in nature. The response of a structure cannot be simply assessed using static assumptions.
The nature of the problem may be to understand the resonant frequencies of your design, so that key driving frequencies such as equipment rotational speed, acoustic or external pressure frequencies, ground motion frequency content or vehicle passing frequency.
Your design may face external driving forces from adjacent components; cams, push rods, pistons or from vehicle input sources such as a bumpy road, wave loading, air pressure or inertial forces.
During the course a variety of techniques will be shown and demonstrated using live examples. Animations of modal, transient and frequency response will be used to illustrate important points.
All of the geometry files used in thecourse notes will be available for the students to download and try out for themselves after the class.
A bulletin board will be set up with this material and will provide a post-course discussion forum for 4 weeks after the class.
Various Excel spreadsheets will be used during the class to illustrate Frequency Response, Transient Response and ModalCoordinates. These will also be available for download.
Whatever the nature of the challenge, the objective of this course is to break down the dynamic problem into clearly defined steps, give an overview of the physics involved and show how to successfully implement practical solutions using Finite Element Analysis.
Who should attend?
This course is aimed at practicing engineers who wish to learn more about how to apply finite element techniques to dynamic analysis in the most effective manner. Ideally a student should have some experience of FEA analysis, but this is not essential. The material that is presented is independent of any particular software package, making it ideally suited to current and potential users of all commercial finite element software systems. This course is a must for all engineers aiming to use FEA as a reliable predictive tool for dynamic analysis.
Agenda
Session1 - Introduction to Normal Modes Analysis
Introductions
Finite Element AnalysisOverview
Introduction to Dynamics
FEA Basic Principals
Undamped Single Degree ofFreedom Systems
Equation of Motion and NormalModes
Mapping to FEA with basicelements
Extending to Multiple Degreesof Freedom
Eigenvalue extraction,background and FEA implementation
Importance of ModeIdentification – use of post processing
Workshops: Bridge discussion.Support Tray Modes
Session 2 - Further Normal Modes
Review Discussion and Workshop
Eigenvalue Extraction Methods
Rigid Body Modes
Importance of Mass modeling
Accurate Idealization – jointsand boundary conditions
Meshing quality
Typical Errors
QA for normal modes analysis
Modal Coordinates
Introduction to Modal EffectiveMass
Workshop: Sign Gantry NormalModes
Session 3 - Introduction to ResponseAnalysis
Workshop Review
Mass Units
Introduction to Damping
Damped, Free vibration
Practical Damping
Overview of Response Analysis
Modal and Direct methods
Introduction to ForcingFunctions and Damping
Damped, Forced vibration
Workshops
Session4 – Transient Analysis
Workshop review
Transient Analysis background
Practical Transient Analysis
Transient Analysis Example
Modal Transient Analysis
Modal Transient AnalysisExample
Base driven transient analysis
Conclusions
Workshop
Session5 – Frequency Response
Workshop Review
Frequency Response Analysis
Direct Frequency ResponseAnalysis
Example
Modal Frequency ResponseAnalysis
Example
Practical Frequency responseAnalysis
Conclusions
Workshop
Venue
The Legacy Falcon Hotel
Chapel Street
Stratford-upon-Avon
CV37 6HA
Tel: 0844 411 9005
Website: http://www.legacy-hotels.co.uk/legacy-thefalcon/
Ideally located in the heart of Stratford Upon Avon, birthplace of William Shakespeare, is The Legacy Falcon Hotel a 16th Century Inn. The hotel is just five minutes walk from Stratford-upon-Avon train station and also has free on-site car parking.
Accommodation
We have secured a limited number of rooms at the venue hotel, at a special rate of £83, including VAT on a bed & breakfast basis. Please contact the hotel directly to book rooms at the discounted rate. This reduced rate is applicable to NAFEMS delegates until the end of October.
---
Details
Event Type: Course
Location: Stratford upon Avon UK
Date: November 27, 2012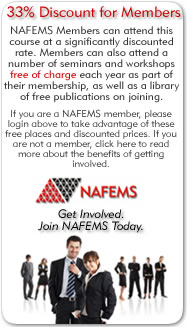 *Special discounts are being made available to members for this course. For more information on joining NAFEMS, please visit our membership section .
Course Tutor

Tony Abbey
Tony Abbey has created and taught a wide range of FEA based training classes over the past 15 years. He has developed a reputation for providing the student with an experience that is full of insight gained from his extensive experience, but which also challenges and motivates. Tony has been working with FEA for over 30 years, both in Industry and for FEA software providers in the UK and the US. He currently runs his own FEA consultancy company and works very closely with NAFEMS to develop its training role.
His informal and interactive presentation style allows the key concepts to be taught in a manner which involves participants fully in the course material.
Tony presents papers at NAFEMS and other conferences on a regular basis and has been involved with NAFEMS since its formation.
Events - Cancellation Policy
Please note NAFEMS cancellation policy for all UK public training courses is as follows:-
Suitably qualified delegates may be substituted at any time prior to the start of the course
Bookings are accepted upon condition that either full payment is received before the course commences, or that a valid purchase order is received from a company that has a credit agreement with us
In the event of a delegate being unable to attend a course that they have booked upon then, NAFEMS will discuss the possibility of transferring to an alternative course. However, a suitable administration charge will be levied.
A refund of 50% of the course fees will be paid to delegates who cancel their booking and do not re-schedule to an alternative course, provided that the cancellation is received by NAFEMS at least four weeks in advance of the course. No refunds can be given for cancellations made after this time.
NAFEMS reserves the right to cancel the course, without liability, in which case all training fees will be refunded in full. However, NAFEMS cannot be held liable for any other expenses incurred by participants or their companies due to the cancellation.
NAFEMS will discuss the possibility of transferring to an alternative event/course, however an administration charge will be applicable.
For full terms and conditions, click here. This policy is subject to change.