An Introduction to Dynamic FE Analysis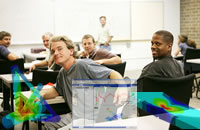 2-Day Training Course : An Introduction to Dynamic FE Analysis
Many problems facing designers and engineers are dynamic in nature. The response of a structure cannot be simply assessed using static assumptions.
The nature of the problem may be to understand the resonant frequencies of your design, so that key driving frequencies such as equipment rotational speed, acoustic or external pressure frequencies, ground motion frequency content or vehicle passing frequency.
Your design may face external driving forces from adjacent components; cams, push rods, pistons or from vehicle input sources such as a bumpy road, wave loading, air pressure or inertial forces.
During the course a variety of techniques will be shown and demonstrated using live examples. Animations of modal, transient and frequency response will be used to illustrate important points.
All of the geometry files used in thecourse notes will be available for the students to download and try out for themselves after the class.
A bulletin board will be set up with this material and will provide a post-course discussion forum for 4 weeks after the class.
Various Excel spreadsheets will be used during the class to illustrate Frequency Response, Transient Response and ModalCoordinates. These will also be available for download.
Whatever the nature of the challenge, the objective of this course is to break down the dynamic problem into clearly defined steps, give an overview of the physics involved and show how to successfully implement practical solutions using Finite Element Analysis.
Who should attend?
This course is aimed at practicing engineers who wish to learn more about how to apply finite element techniques to dynamic analysis in the most effective manner. Ideally a student should have some experience of FEA analysis, but this is not essential. The material that is presented is independent of any particular software package, making it ideally suited to current and potential users of all commercial finite element software systems. This course is a must for all engineers aiming to use FEA as a reliable predictive tool for dynamic analysis.
Agenda
Session1 - Introduction to Normal Modes Analysis
Introductions
Finite Element AnalysisOverview
Introduction to Dynamics
FEA Basic Principals
Undamped Single Degree ofFreedom Systems
Equation of Motion and NormalModes
Mapping to FEA with basicelements
Extending to Multiple Degreesof Freedom
Eigenvalue extraction,background and FEA implementation
Importance of ModeIdentification – use of post processing
Workshops: Bridge discussion.Support Tray Modes
Session 2 - Further Normal Modes
Review Discussion and Workshop
Eigenvalue Extraction Methods
Rigid Body Modes
Importance of Mass modeling
Accurate Idealization – jointsand boundary conditions
Meshing quality
Typical Errors
QA for normal modes analysis
Modal Coordinates
Introduction to Modal EffectiveMass
Workshop: Sign Gantry NormalModes
Session 3 - Introduction to ResponseAnalysis
Workshop Review
Mass Units
Introduction to Damping
Damped, Free vibration
Practical Damping
Overview of Response Analysis
Modal and Direct methods
Introduction to ForcingFunctions and Damping
Damped, Forced vibration
Workshops
Session4 – Transient Analysis
Workshop review
Transient Analysis background
Practical Transient Analysis
Transient Analysis Example
Modal Transient Analysis
Modal Transient AnalysisExample
Base driven transient analysis
Conclusions
Workshop
Session5 – Frequency Response
Workshop Review
Frequency Response Analysis
Direct Frequency ResponseAnalysis
Example
Modal Frequency ResponseAnalysis
Example
Practical Frequency responseAnalysis
Conclusions
Workshop