Practical Introduction to CFD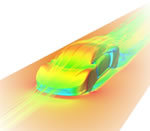 3 day course : 23rd, 24th and 25th July 2013
CFD has become an essential tool to predict fluid motion complicated with phenomena such as turbulence, heat and mass transfer, phase change, movement of boundaries, etc. CFD is now routinely used and has become an invaluable tool for design and analysis of complicated engineering systems and complex flow problems in aerospace, automotive, chemical, electronics, environmental, biomedical, and host of other industries. CFD provides the ability to visualize and understand complicated flow phenomena and the dynamical behavior for systems that are too expensive or difficult to prototype.
CFD is highly interdisciplinary and is the fusion of three major and distinct disciplines of engineering (fluid dynamics), applied mathematics, and computer science. In the past decade, the proliferation of commercial CFD software has significantly reduced the need for a deep knowledge of mathematics and computer science for application of CFD. Conversely, this proliferation has resulted in significant interests by analysts and organization not traditionally involved or heavily experienced in the field of fluid dynamics. Furthermore, if past trend is any indication, CFD will continue to be considered for problems that are far more challenging and complex than before and its use will grow in industrial arenas not traditionally known for their fluid problems.
The reduced need for expert knowledge in mathematics and computer science to use CFD in addition to proliferation of CFD ensures that more organizations and newer analysts would embark on using CFD in their design and analysis processes. It is then imperative that these new organizations and analysts know and understand the physical principles of fluid dynamics in addition to acquiring working knowledge of CFD. A thorough understanding of principles, theories, and assumption in fluid dynamics is paramount for the effective, proper, and optimized use of the CFD tool.
The Course
This course offers the attendees the fundamental knowledge for using CFD in real life engineering applications. Through a simple and moderately technical approach mixed with real world problems, this course describes the steps in the CFD process and provides benefits and issues for using CFD analysis in understanding of complicated flow phenomena and its use in the design process. It also includes the governing principles and important concept of fluid dynamics to help understand the physical principles behind CFD for its correct and effective use. Turbulence modeling, computational heat transfer, and multiphase modeling will be introduced and choices will be discussed in this course. The course will also include best practices for reducing errors and uncertainties in CFD analysis

The course is completely software independent. Attendees are welcome to bring laptops to take notes, but they are not required. A full set of printed and bound notes will be issued to every attendee.
Who Should Attend?
The target audience for this course is engineers and managers who are interested or are considering to incorporate CFD in their design practices in the most effective manner. This course is ideally suited for practicing engineers with limited knowledge of CFD or in need of refresher who wish to learn more about how to choose and effectively apply methodologies, schemes, and techniques in their CFD analysis. The material that is presented is independent of any particular software package, making it ideally suited to current and potential users of all commercial and non-commercial CFD software systems. Active participation, interaction, and questions are encouraged throughout the course to create a unique experience for each attendee.
Course Program
Fluid dynamics definitions, properties, & challenges

Governing principles of fluid dynamics

CFD basics

Important phenomena & concept in fluid dynamics

Geometry and meshing

Differencing alternatives

Flow classifications

Analysis, monitoring, and visualization

CFD errors and best practices

Understanding turbulence

Turbulence simulation approaches

RANS turbulence modeling

Wall treatment in turbulence modeling

Hybrid turbulence models

Turbulence models comparison & choosing a modeling approach

Modes of heat transfer

Conduction heat transfer

Convection heat transfer

Thermal boundary layer and heat transfer coefficient

Conjugate heat transfer

Multiphase flow definitions and objectives

Multiphase flow regimes

Multiphase flow modeling approaches: DPM, VOF, Mixture, Eulerian

Highlightsfrom CFD's past and future trends
Location & Venue
Villanova University
CEER Building
800 E. Lancaster Avenue
Villanova, PA 19085

The training will be held at Villanova University in Center for Engineering Education and Research (CEER) Building. Villanova University is the oldest Catholic university in Pennsylvania with more than 10,000 students. Villanova University is located in beautiful suburb of Philadelphia and is easily accessible from Philadelphia International Airport and Center City Philadelphia,
Details
Event Type: Course
Location: Villanova, PA USA
Date: July 23, 2013

Course Instructor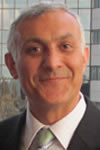 Kamran Fouladi is a licensed professional engineer, a fluid dynamics & thermal management specialist, and an educator. He brings more than 25 years of engineering experience and expertise in engineering simulation, design, and analysis. He develops and integrates innovative simulation tools for design and analysis of complex systems & applications and focuses on recognizing the areas of opportunities for design efficiency. He also provides training for proper use of simulation tools in engineering and collaborates closely with NAFEMS in developing CFD training courses.
Dr. Fouladi is currently focused on positively affecting the sustainability and energy efficiency of mission critical facilities through simulation. He uses state-of-the-art computational fluid dynamics (CFD) simulation combined with best green practices for design and operations of mission critical facilities to achieve optimal thermal and energy performance. Dr. Fouladi is actively involved in data center energy efficiency research with Villanova University. He is also an adjunct professor at Villanova University and has been developing and teaching mechanical engineering courses since 2001.
Dr. Fouladi is the managing principal of InfoMec Consulting. He founded InfoMec in year 2000 to provide state-of-the-art engineering consulting to aerospace organizations. Dr. Fouladi and his staff have provided engineering and CFD support to projects of national importance such as NASA Crew Exploration Vehicle, NASA Orion's Launch Abort Vehicle, NASA Orbital Space plane, and NASA supersonic transport and business jet aircraft.
Dr. Fouladi began his career in 1991 at NASA Langley Research Center where he developed, modified, and applied CFD tools for complex configurations and participated in wind tunnel testing and flight tests planning. Dr. Fouladi later jointed Pratt and Whitney (P&W) Company in 1997 focusing on supersonic aircraft noise reduction and innovative nozzle technologies. He was responsible for developing proposals, allocation of funds, managing resources, and execution of work plans. He also served as technical monitor and manager on two university contracts with MIT and Penn State.
Dr. Fouladi is an active member of several engineering organizations (ASME, ASHRAE, AIAA, 7x24 Exchange) and has served as reviewer of journals and technical conferences. He currently lives with his family in greater Philadelphia area.