V&V: Verification and Validation of Models and Analysis 'Masterclass'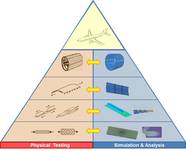 2-Day Training Course : 28th & 29th January 2014
Engineering simulation plays an increasing role in industry search for competitiveness and technology based innovation at any stage of the design, qualification /certification of their products. Key decisions and product qualification/certification more and more rely on virtual tests and digital simulation, which create a major paradigm shift; thereby physical tests objective is progressively moving from a demonstration of compliance to a reference for analysis validation. This trend in industry is shown through adoption of new wording such as « realistic simulation », « High Fidelity required simulation » or « virtual testing ». This situation creates new responsibility for the engineer to guarantee the required confidence level .Hence this new approach requires secured processes for the verification and validation of models and analyses bringing evidence of their predictive capability. In particular, programme managers ask now for formal evidence on "simulation fit for purpose" on which they can build confidence and take decisions.
In addition, the increasing situation for extended enterprise creates new constraints to guarantee safe and robust analysis processes. At the same time, and due to the economic pressure, V&V activities are exclusively seen as an additional cost that can easily be reduced and even fully cut, thus underestimating the induced risks. Finally V&V implementation is not easy to because of the diversity of involved persons: managers, simulation experts, test specialists, software developers and quality controllers, software vendors…
Course objectives and benefits
The main objectives for this course are to do in-depth presentation of:
V&V concepts and methodologies to ensure the necessary level of confidence required by virtual simulation
Issues to be addressed and best practices for implementation of V&V, especially with regard to the synergy between physical and virtual tests and the optimisation of demonstrations of compliance.
Major criteria for V&V planning (technical issues, benefits, costs, risks…) and considerations for setting up V&V business cases
Participants to this master class can expect benefits in the following areas:
Develop their knowledge in V&V in full coherence with the level of expectation due in their industry context and applicable regulations
Understand the fundamental concepts of V&V, the role and contents of standards, the existing methodologies for the implementation or the improvement of simulation and V&V plans
Understand specific V&V requirements in the context of realistic simulation and virtual testing
New courses and dates are announced regularly – for full details visit
Learn how to implement reporting to bring visibility, and confidence to analysis managers, programme managers and generally speaking all "customer s" of simulation results
Understand how to build rational plans for V&V and related demonstrations
Improve synergy between virtual and physical tests in the context of validation
Learn how to build business cases allowing for justification of V&V plans
Who should attend?
Engineers and senior analysts in charge of simulation activities or preparing to take new responsibility in the management of simulation, especially with regard to V&V responsibility
Managers in charge of engineering simulation teams and willing to improve their knowledge in V&V and in the relevant processes
Program managers who need to make critical decisions based on engineering simulation results and that wish to increase their understanding and visibility of the required V&V activities
Participants should have a few years of experience in engineering simulation for the design and development of industrial products.
Course Content
All industry sectors confronted with simulation V&V and realistic simulation, are concerned with this training programme. The course is established on the solid knowledge of the tutors and the vision they have developed from their rich industrial experience, especially within the aerospace and energy industries.
The course is neutral and independent of any particular software solution.
We limit the number of participants to a small group to facilitate dialog and exchanges between participants. Specific attention is given to participants' concerns thanks to a questionnaire which is sent in advance to the course.
Course Program
1. Introduction
Industrial context and stakes
Simulation in the product lifecycle
Industrial implementation of simulation
2. Validation, qualification & certification of industrial products
Fundamentals on product validation, qualification and certification
The analysis-test pyramid
Virtual testing and realistic simulation
Introduction to new technologies and TRL
Regulations and certification in aeronautics
Situation of the nuclear industry
3. V&V and simulation management
Scope and complexity of the management of simulation
Simulation management activities: software capability management / V&V / skills management / quality management / SPDM / CAD / CAE…..
4. Realistic Simulation
Existing technology and new enhancements available to industry: HPC, multi-scale, multi-physics….
Impact on V&V plans
5. V&V fundamentals and Standards
Fundamentals
Verification
Validation and uncertainty quantification
Predictive maturity
Standards
Short history of standardization in V&V
Main standards: ASME, AIAA, NASA…
Other initiatives
6. Verification
Verification of software codes
Verification of algorithms
Quality assurance for software: methodologies for SW development, regression tests…
Verification of analyses
Introduction
a priori verifications
a posteriori verifications (including error estimation methods …)
7. Validation and test/simulation synergy
Validation process and constraints
Physical and virtual testing collaboration
Objectives and typology of physical tests
Prerequisites for successful validation tests
Some industrial examples (aerospace, nuclear…)
8. Uncertainty Quantification
Typology : random, epistemic uncertainties
Selective methodologies for uncertainty quantification: Monte Carlo, Latin hypercube, response surfaces, polynomial chaos, "Lack of knowledge" theory (theory of misconceptions?), theory of evidence…..
Sensitivity analysis, robustness (key parameters identification…)
9. V&V Implementation Strategies
Setting-up V&V plans
Implementation issues and obstacles
Industrial justification (V&V business case) − Risk management
Benefits vs. costs
Organization and skills
10. Course outcomes and conclusion