Dates don't work for you? 
Did you know that you can attend this class using the live session recordings, meaning you can view the content whenever suits you?
Alternatively, Complete the form below, and we'll notify you when this course is next available.
>>>>>PLEASE NOTE THAT COMPLETING THE FORM BELOW SIMPLY SENDS AN INQUIRY TO BE ADDED TO THE WAIT LIST - IT DOES NOT CONSTITUTE REGISTRATION! IF YOU WISH TO REGISTER FOR THIS RUN OF THE CLASS, PLEASE CLICK "ORDER" ABOVE THIS MESSAGE<<<<<



Course Instructor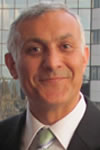 Kamran Fouladi, Ph.D., PE. is currently the president of InfoMec, a Computational Fluid Dynamics (CFD) consulting and training firm. Kamran has over twenty years of experience in mechanical and aerospace engineering.
He is a researcher and practitioner of CFD and he has been teaching CFD and other fluid mechanic courses at Villanova University since 2001 both at undergraduate and graduate level. Kamran is a licensed Professional Engineer (PE) in Pennsylvania

Kamran's career began in aerospace arena working at NASA Langley and United Technologies' Pratt and Whitney (P&W) prior to establishing InfoMec CFD Consulting in year 2000.  With InfoMec, Kamran has provided engineering and CFD support to projects of national importance (NASA Crew Exploration Vehicle, NASA Orion's Launch Abort Vehicle, NASA Orbital Space plane, and NASA supersonic transport and business jet aircraft) using in-house, public domain, and commercial CFD software.
He is currently focused on using CFD in the area of thermal management of complex and mission critical facilities.

---
Why an e-Learning Class?
In the current climate travel and training budgets are tight. To help you still meet your training needs the following e-learning course has been developed to complement the live class. 
E-learning classes are ideal for companies with a group of engineers requiring training. E-learning classes can be provided to suit your needs and timescale. Contact us to discuss your requirements.