Fatigue & Fracture Mechanics in FE Analysis e-learning course
---
May 26th - June 16th

11:00 PDT / 14:00 EDT / 19:00 BST / 20:00 CEST
June 30th - July 7th 2015
06:00 PDT / 09:00 EDT / 14:00 BST / 15:00 CEST

5-Week Training Course with
two 1-week breaks
One 2.5 hour session per week- all sessions are recorded, and available to view at any time


Engineering Board PDH Credits: 12.5 hours*

---
REGISTER TODAY TO SECURE YOUR PLACE.

Course Overview
Fatigue failure occurs when a material is subjected to repeated loading and unloading cycles. The level of stresses present to cause failure may be well below values considered safe for a single static load application. The critical fatigue initiation is usually at a very localized site and may be a result of additional factors such as stress concentration due to component shape, surface finish or corrosion pitting.
Fatigue has been cited as one of the major causes of in-service failure throughout engineering history. The earliest application of rotating machinery with its attendant cyclic nature produced documented fatigue failures. Textile loom machinery, pumping machinery and above all steam railway operations were beset by a mode of failure that was not understood. The early railway axle failures and mining equipment failures prompted fundamental testing and research. The theories on which much of modern fatigue analysis is based on were developed all through the industrial revolution and into the 1920's.
The advent of more complex structures with more complex loading histories was typified by the introduction of the first jet powered airliners. Sadly new fatigue lessons had to be learned in the period from 1954 as a result of the DH Comet crashes.
The nature and prediction of fatigue is much more understood, and is a requirement for most design products today. However the application of fatigue analysis is not easy and a good background is essential to be able to use the powerful FEA method as a basis for fatigue analysis.
Much of the terminology used in setting up the fatigue problem through a modern GUI is confusing and the choice of options is not always clear.
The objective of this course is to break down the fatigue analysis process into clearly defined steps, give an overview of the physics involved and show how to successfully implement practical solutions using Finite Element Analysis.

Free Fatigue Life Calculator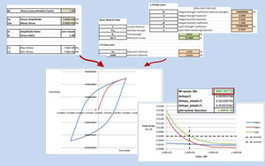 All attendees on the course will be able to download a fully functioning Fatigue Life Calculator. As well as forming a useful tool for many of the homework tasks set, attendees will be able to explore the implications of both High Cycle and Low Cycle Fatigue as discussed in the class. 
A tutorial guide is also available for download. Basic Material Data and Strain Life Material data is input, or derived from fundamentals.  Neuber notch and Plastic material intersection points are found allowing a hysteresis cycle to be plotted. The strain life curve is plotted and the number of cycles to failure is calculated.
The Calculator has been steadily developed over the last few years of delivering this course and attendees will be entitled to future upgrades.

Course Process and Details 
In the current climate travel and training budgets are tight. To help you still meet your training needs the following e-learning course has been developed to complement the live class. The e-learning course runs over a four week period with a single 2.5 hour session per week.
The course is completely code independent. No software is required.
Each topic in the class is treated as a building block and is presented using an overview of the physics and theory involved. The math is kept simple and the emphasis is on practical examples from real life to illustrate the topic. The mapping to Finite Element analysis techniques is shown with numerous workshops. The tutor will be showing analysis results interactively and involving the students in the process via Q and A periods during each session, follow up emails and a Course Bulletin Board
Students are welcome to send in problems from industry and these will be discussed as time permits.


Full notes are provided for the students, together with personal passwords for e-learning backup material, bulletin board access etc.

Students will join the audio portion of the meetings by utilizing the VoIP (i.e. headset connected to the computer via headphone and microphone jacks) or by calling into a standard toll line. If you are interested in additional pricing to call-in using a toll-free line, please send an email to: e-learning @ nafems.org .
Who Should Attend?
This course is aimed at practicing engineers who wish to learn more about how to apply finite element techniques to fatigue analysis in the most effective manner. Ideally a student should have some experience of FEA analysis, but this is not essential. The material that is presented is independent of any particular software package, making it ideally suited to current and potential users of all commercial finite element software systems. This course is a must for all engineers aiming to use FEA as a reliable predictive tool for fatigue analysis.
E-learning classes are ideal for companies with a group of engineers requiring training. E-learning classes can be provided to suit your needs and timescale. Contact us to discuss your requirements.