An opportunity to ensure that your organization is maximizing the benefits of FEA
3-Day Training Course : Introduction to FEA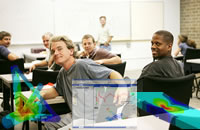 Finite Element Analysis has become widely used and universally accepted in many industry sectors. FEA is a powerful technique, able to produce solutions to challenging structural analysis problems. The technology and computational efficiency of the method, together with the rapid increases in computer processing power means that today the scope and size of simulations far exceeds the capabilities of even a few years ago

However for those engineers embarking on Finite Element Analysis, or companies adopting the technique to improve designs or achieve certification of new products, there is a steep learning curve to overcome.
There are a bewildering array of element types, solution types, meshing methods and pre-post processing options that have to be faced. This is before we get down to the engineering physics behind the problem, with associated classic traps and errors. What is needed is guidance via a thorough but practical assessment of the method and how to use it in the real world. 
NAFEMS, the only vendor neutral, not-for-profit organization with the aim of promoting the effective and reliable use of FEA, addresses this requirement by providing this three day example-driven, practical course.
Students are shown the background to the FEA methodology, via simple real examples with a minimum of theory. The strength and weaknesses of the various FEA techniques are shown and discussed. Practical considerations of loadings, boundary conditions and structural details are shown by numerous examples.
The assessment, validation and interpretation of FEA results are vital for delivering safe, effective products. A process is shown which provides confidence in the results and aims to provide conservative, reliable and qualified results. The attendees join in the activity of building this process themselves and come away with an embryo Procedural Check List.
The course offers excellent guidance on how to assess and plan the task of carrying out a structural analysis using FEA. A clear understanding of the objectives of each analysis is vital and a road map for achieving this is presented. A review of the tradeoff between available resource and analysis methodology is given.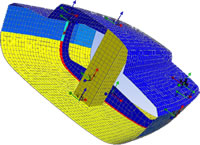 Interaction is encouraged throughout the course. Real world examples are given at every stage, drawn from the Tutors wide practical experience. Questions are very welcome, as this is one of the key aspects of making this a unique experience for each attendee. Attendee project examples can often be incorporated into the class as time permits, to benefit all. Role playing situations include the class acting as a syndicate to evaluate a Design Failure, critical assessment of an Finite Element Report and the continuous evolution of the Check List.
The course is completely code independent, attendees are welcome to bring laptops to take notes, but they are not required.
A full set of printed and bound notes will be issued to every attendee.
Who Should Attend?
This course is aimed at practicing engineers who wish to learn more about how to apply finite element techniques to their particular problems in the most effective manner. The material that is presented is independent of any particular software package, making it ideally suited to current and potential users of all commercial finite element software systems. This course is a must for all engineers aiming to use FEA as a reliable predictive tool for thermal, stiffness and stress analysis.
Companies moving into FEA technology to improve product designs or assess prototype failures or speed the design process will benefit from sending key engineers to this course. If you have sufficient engineers then a tailor made course may be more suitable. NAFEMS can then work closely with you to cater for your specific industry sector or analysis type.
The course is open to both members and non-members of NAFEMS.
Course Program
Background to FEA  
Origins of FEA , leading to today's process
Emphasis on limitations of a displacement solution
The route from CAD to Mesh to Solver to Results
A simple case study – a plate with a hole
The Analysis Input file
Simple Element stiffness matrices
Grid Points , Degrees Of Freedom (DOFs)
Over view of Element Types
1d elements
2d elements
3d elements
Solid 3D elements: Hex versus Tets, the trade off
Types of meshing and meshing issues
I-beam example spanning element types
Making healthy models
Mis-matched  DOF'S and other issues
Element distortions – effect on accuracy
Convergence checking
Solver and Preprocessor checking
Post processor checking and the dangers of smoothing
Stress concentrations and stress singularities
Window cutout example
Building an Analysis Process 'Cheat Sheet' Part 1
Constraints
Constraint methods
Real world boundary conditions
Poisons effect
Minimum support 321 method
Case Study – bracket analysis
Linear Contact methods – new technology to supplement constraints
Loading Types
Distributed load, Point Loading
Real world loading versus FEA
Bearing load methods
Nonlinear implications
Centrifugal and Inertial Loading
Unit load cases for better understanding
Case Study – tanker body under cornering and accident loading
Multi Point Constraints (MPCs)
What are they and why use them?
Different terminologies and usage
Soft and rigid load and constraint distribution
Making Life simpler
Symmetry
Anti-symmetry  and Axi-symmetry
Sector Symmetry
Plane Stress
Plane strain
Comparing 1d, 2d, 3d modeling case study of a pressure vessel
Understanding the objective of the analysis
Clear view of scope of problem – how do we tackle it
Resource and timescale factors
FEA Analysis objectives – reservoir case study
Class exercise develop an analysis strategy
Looking at CAD geometry
Why not use 20 million elements
Trade offs
De-featuring
The reality of CAD models
Manual methods of meshing
Building an Analysis Process 'Cheat Sheet' Part 2
Engineering Assessment
Anticipate the load paths 
Free body Diagrams
Force Balance
Review of Stress and Load fundamentals
Revisiting the I-Beam, comparing theory with FEA
Checking the answers
Ways of checking the results
What type of stress do I use?
Review of fundamentals
Post Processing and More Checking
Other Checks
Class Exercise – review an FE report
Other Topics (dependent on requirements)
Buckling
Introduction to Non-linear Analysis
Introduction to Dynamics and Normal Modes Analysis
Introduction to Composite Analysis
Conclusions 
Review of the Class exercise – developed Analysis Process 'Cheat Sheet'
Debrief 



Location
Homewood Suites Columbus/OSU
1576 West Lane Avenue
Columbus, Ohio 43221
Telephone 614-488-1500