Advanced Dynamic Finite Element Analysis (FEA)

Three sessions; 2.5 hours per session
Need to dive deeper into Dynamics?
Want to learn how to set up and execute analyses like an expert?
This course gives you practical advice and background.
---
May 4th - May 18th, 2017
07:00 PDT / 10:00 EDT / 14:00 GMT / 15:00 CET
One 2.5-hour session per day
Engineering Board PDH Credits: 7.5 hours*
---


Course Overview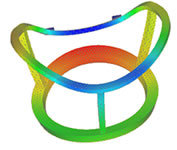 This course builds on the concepts introduced in the Basic Dynamics course.
In depth explanations and insights are given into key areas of Dynamics which answer such questions as:
Why is dynamic response important in shock response?

What are the limitations of a response spectra method?

What is a PSD – and why such strange units?

What is the difference between explicit and implicit methods?

Major topics include:
Shock Spectra methods

Random Vibration

Non-linear Dynamics


Why an e-learning class?
Travel and training budgets are always tight! The e-Learning course has been developed to help you meet your training needs.If your company has a group of engineers, or specific training requirements across any subjects, please contact us to discuss options.

Session AD1:
Importance of Dynamic Effects in Shock

Shock Spectra Analysis

Response Spectra Overview

DDAM overview

Response Spectra Analysis – creation of a spectra

Response Spectra Analysis – application of a spectra

Examples

Homework session 1

Session AD2:
Homework Review

Probability and Random theory review

PSD definition

Random FE Analysis Overview

Application of Random Analysis results for Fatigue

Checking with Miles Equation

Examples

Homework session 2

Session AD3:
Homework Review

Dynamic Nonlinearity

Nonlinear Strategy

Example of Geometric Nonlinearity


Theoretical Solution
Numerical solution

Background to Material Nonlinearity

Example of Material Nonlinearity


Theoretical Solutions
Numerical solutions

Overview of Implicit versus Explicit Solutions

Examples



Course Feedback
Feedback from former Dynamic FE Analysis e-Learning students:
"This course did everything right. From organization to presentation to interaction, this is a good model for what online training should be."

B.T.

"Tony's command over the subject and excellent teaching skills made this course worthwhile."

G.K.

"Super! Doesn't get better than this. Good idea to start having e-Learning courses."

R.P.

"I'm really happy not to pay a big fraction of my annual training budget to airlines and hotels. A BIG plus to e-learning."

V.G.


Special Note(s):
Telephony surcharges may apply for attendees who are located outside of North America, South America and Europe. These surcharges are related to individuals who join the audio portion of the web-meeting by calling in to the provided toll/toll-free teleconferencing lines. We have made a VoIP option available so anyone attending the class can join using a headset (headphones w/ microphone) connected to the computer. There is no associated surcharge to utilize the VoIP option, and is actually encouraged to ensure NAFEMS is able to keep the e-Learning course fees as low as possible. Please send an email to the e-Learning coordinator (e-learning @ nafems.org ) to determine if these surcharges may apply to your specific case.
Just as with a live face-to-face training course, each registration only covers one person. If you plan to register a large group (5+), please send an email to e-learning @ nafems.org in advance for group discounts.


Related News:
Review the NAFEMS "Introductory Dynamic FE Analysis " webinar presented by Tony Abbey on April 2nd, 2009. The purpose of this webinar is to provide some technical content to the NAFEMS community, and to introduce the Dynamic FE Analysis e-Learning course listed on this page.
For more information, please email e-learning @ nafems.org .
For NAFEMS cancellation and transfer policy, click here.

Details
Event Type: Course
Location: e-Learning Online
Date: May 4, 2017

Not Available to Attend this Time?
Would you like us to notify you when the next course on Advanced Dynamic FEA is open for enrollment? If so, add yourself to the eLearning Waitlist!
---
Course Tutor:
Tony Abbey
Read Tony Abbey's bio on the NAFEMS tutors page


---
Session 1
Thursday, May 4th

Session 2
Thursday, May 11th

Session 3
Thursday, May 18th
---
All sessions are recorded and made available to attendees following the end of the live class. It is perfectly acceptable to attend this class using recordings only.

---
The course is completely code independent, so is applicable to all FEA users


A full set of PDF notes is available for download. Each session is presented live and is available for review via a streamable recording.
Reading lists, homework submissions, supplementary data are all available for download via the special on-line forum. Interaction via the bulletin board is strongly encouraged to obtain the most from the e-learning class. Typically, the board runs for 4 weeks after the last live class sessions, giving you plenty of time to catch up with homework, review and ask questions.
Note: homework participation is purely voluntary!