Fatigue & Fracture Mechanics Analysis
Monday, November 6th, 2017 | 10am- 6pm | Wichita, KS
Exciting News: Join us in Wichita for all, or some part, of the week of November 6th - 10th. For the first time ever, we are offering five consecutive days of learning with multiple training and a conference. Details about the courses available can be found in the column to the right.

---
Background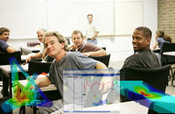 Fatigue is cited as one of the major causes of in-service failure throughout engineering history. The earliest application of rotating machinery with its attendant cyclic nature produced documented fatigue failures. Early railway axle failures and mining equipment failures prompted fundamental testing and research. The theories on which much of modern fatigue analysis is based on were developed all through the industrial revolution and into the 1920's.
The advent of more complex structures with more complex loading histories was typified by the introduction of the first jet powered airliners. Sadly, new fatigue lessons had to be learned in the period from 1954 as a result of the DH Comet crashes.
The nature and prediction of fatigue is much more understood today, and is a requirement for most aerospace components. However, the application of fatigue and fracture analysis is not easy. A good background is essential to be able to use the powerful FEA method as a basis for Fatigue and Damage Tolerance Analysis. Much of the terminology used in setting up the fatigue problem through a modern GUI is confusing and the choice of options is not always clear.
The objective of this short course is to break down the fatigue and fracture analysis process into clearly defined steps, give an overview of the physics involved and show how to successfully implement Fatigue and Damage Tolerance using Finite Element Analysis.
---


Content
Overview of Fatigue and Fracture Mechanics

Introduction to Fatigue

Aerospace Loading Environment

High Cycle Fatigue Methods


Mean Stress and Notch Effects
Fatigue Correction Factors
Damage Law

Mesh Convergence Requirements

Rainflow Counting

Multi-Axial Fatigue

Low Cycle Fatigue Methods


Notch Effects Low Cycle Fatigue
Mean Stress and Notch Effects
Cycle Counting Methods

Introduction to Fracture


Stress-Based FEA Solutions
Strain Energy-Based Solutions
Crack Initiation
Crack Propagation

Vibration Fatigue


Background to Random Analysis
Application to Fatigue
Damage Models
---

About the Instructor
Tony Abbey has created and taught a wealth of FEA training material over the past 20 years. Thousands of engineers across the world have benefited from his live and e-learning based classes. He has developed a reputation for providing the student with an experience that is full of insight gained from his extensive experience, but which also challenges and motivates.Tony has been working with FEA for nearly 40 years, both in Industry and for leading FEA software providers in the UK and the US.
His informal and interactive presentation style allows the key concepts to be taught in a manner which involves participants fully in the course material. Tony presents papers at NAFEMS and other conferences on a regular basis and has been involved with NAFEMS since its formation. He has written a series of very popular articles on FEA for Desktop Engineering magazine.
---
Registration

You can register to attend using the "order" button on the right.
Members of NAFEMS: $275
Non-members of NAFEMS: $450
These fees include attendance at the training course, course notes, morning and afternoon refreshments, and lunch. Hotel accommodation is not included.

---


Conference Venue

National Center for Aviation Training
4004 N Webb Rd.
Wichita, KS 67226
316.677.9400 / 866.296.4031

Hotel
La Quinta Inn & Suites Wichita Northeast
2660 N. Greenwich Ct.
Wichita, KS 672261
Phone: 316-500-6220
For a discount, refer to the "NIAR" rate when booking your reservation.
Purchasing Details
Members Price
£213 | $275 | €242
---
Non-Members Price
£348 |
$450
| €395
---
Order Ref: Fatigue_US_NOV2017
Event Type: Course
Location: Wichita, KS United States
Date: November 6, 2017
One Day or a Week of Learning
Join us in Wichita for all, or some part, of the week of November 6th - 10th. For the first time ever, we are offering five consecutive days of learning with multiple training courses and a conference. Below is the schedule:
Monday, November 6th:
Training: Fatigue & Fracture Mechanics Analysis
Tuesday, November 7th:
Training: Modeling Joints & Connections
Wednesday, November 8th:
Conference: Aerospace Simulation Engineering: The Big Issues
Thursday, November 9th:
Training: Aerospace FEA Modeling Techniques
Friday, November 10th:
Training: Nonlinear Analysis


Note: We will be providing substantial discounts to individuals interested in attending more than one of the above options. For those bundle options, please choose one of the following:
If you would like to enroll multiple people in one, or more, of the options mentioned above, please contact us at americas@nafems.org, or call 1.614.360.1922.


Questions?
Please contact the NAFEMS Americas office with any questions.