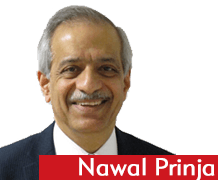 Prof. Nawal Prinja, BTech(IIT), MSc, PhD, FIMechE, CEng.
Technical Director, Clean Energy 
AMEC Foster Wheeler
Professor Nawal K. Prinja has 35 years of academic and industrial experience in the civil and defence nuclear sector.  He is Technology Director of Clean Energy, Wood plc. In his current role, he is responsible for managing technical capability, technology development and performing engineering and technical governance. He holds a position of Honorary Professor at three British universities (University of Aberdeen, Brunel University in London and Bolton University). He chairs the Industrial Advisory Committee of the National Structural Integrity Research Centre (NSIRC). 
He has published 3 books and over 45 technical publications related with structural integrity. Currently he is chairing the International Task Force on Harmonisation of Codes set by the World Nuclear Association's CORDEL project and has worked with IAEA as a technical expert to help write their safety guides and chair expert consultancy meetings. 
He is a member of the Technical Assessment Panel of Fusion for Energy working on the international ITER project. He has represented Clean Energy at the House of Lords Select Committee on Nuclear R&D and at the Round Table meeting held with UK Government on materials research. 
He was appointed as an advisor to the UK Government to help formulate their long term R&D strategy for nuclear industry and also advises the Ministry of Defence on Nuclear Propulsion Research & Technology programme.