Modeling Joints & Connections
Tuesday, November 7th, 2017 | 9am- 5pm | Wichita, KS
Exciting News: Join us in Wichita for all, or some part, of the week of November 6th - 10th. For the first time ever, we are offering five consecutive days of learning with multiple training and a conference. Details about the courses available can be found in the column to the right. 

---
Background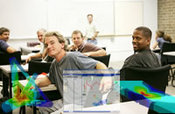 All structures involve some form of jointing or connection. Traditional fabricated aerospace structures have used many thousands of bolts and rivets to connect components together in a continuous manner.
Significant discrete load paths are formed by lugs and pins, clips or similar connectors in many components and subassemblies. Alternative forms of connection in traditional materials include bonded joints. These may well exist as the sole means of load transfer or be supplemented by mechanical connections such as bolts or rivets.
The engineer is faced with challenges when attempting to simulate such connections and joints within a Finite Element Analysis. In many cases the details of each individual connection can be ignored if an overall stiffness or strength assessment is to be made and the connection is assumed reasonably continuous. However, there may be doubts about the local flexibility and load paths developed with this assumption. It may be that the assessment of the local behavior of the connector is essential to the safety case. This would certainly be the case with main attachment fittings for example. In some cases the interaction between the connectors and the surrounding structure is critical, as in the case of pre-loaded bolts and inter-rivet buckling.
The objective of this course is to review the various connection and joint technologies in use, understand the stiffness and strength characteristics and develop practical solutions using Finite Element Analysis.
---


Content
Joints and Connectors Overview

FEA of Mechanical Connectors Overview

Beam to Beam
Beam to Shell
Beam to Solid
Shell to Shell with Springs and Beams
Solid to Solid

Automation
Contact Checking

Bolt Basics
Tension and Shear Bolts

Axial and Shear Bolt Stiffness
Pre-Load in Bolts
Load Case Combinations

Modeling Bearings
Bonded Joints

Stiffness and Stress Methods
Delamination
Cohesive Zone Elements
VCCT Methods

---

About the Instructor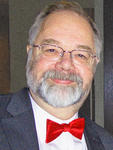 Tony Abbey has created and taught a wealth of FEA training  material over the past 20 years. Thousands of engineers across the world have benefited from his live and e-learning based classes. He has developed a reputation for providing the student with an experience that is full of insight gained from his extensive experience, but which also challenges and motivates.Tony has been working with FEA for nearly 40 years, both in Industry and for leading FEA software providers in the UK and the US.
His informal and interactive presentation style allows the key concepts to be taught in a manner which involves participants fully in the course material. Tony presents papers at NAFEMS and other conferences on a regular basis and has been involved with NAFEMS since its formation. He has written a series of very popular articles on FEA for Desktop Engineering magazine.
---
Registration

You can register to attend using the "order" button on the right.
Members of NAFEMS: $275
Non-members of NAFEMS: $450
These fees include attendance at the training course, course notes, morning and afternoon refreshments, and lunch. Hotel accommodation is not included.

---


Conference Venue

National Center for Aviation Training
4004 N Webb Rd.
Wichita, KS 67226
316.677.9400 / 866.296.4031

Hotel
La Quinta Inn & Suites Wichita Northeast
2660 N. Greenwich Ct.
Wichita, KS 672261
Phone: 316-500-6220
For a discount, refer to the "NIAR" rate when booking your reservation.