Nonlinear Analysis
Friday, November 10th, 2017 | 8am- 2pm | Wichita, KS
Exciting News: Join us in Wichita for all, or some part, of the week of November 6th - 10th. For the first time ever, we are offering five consecutive days of learning with multiple training and a conference. Details about the courses available can be found in the column to the right.

---
Background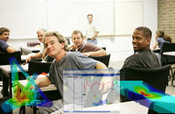 All physical systems in the real world are inherently nonlinear in nature. Hence, one of the most difficult tasks facing an engineer is to decide whether a nonlinear analysis is really needed and if so what degree of nonlinearity should be applied. The majority of FEA carried out within the aerospace industry will be based on well proven linear assumptions. However, there will be situations where a nonlinear analysis is required to adequately describe the physical situation.
Nonlinear behavior can take many forms and the appropriate FEA simulation methods can be challenging.
An attachment fitting may develop significant change in stiffness and load distribution path due to 'heel and toe' response. A skin panel may develop complex deformed shapes as it initially buckles and transitions from shear to diagonal semi-tension.
Perhaps the assembly is being checked for an ultimate condition and we need to check that plastic growth is stable and there is no failure – bent but not broken!
Whatever the challenge, the objective of this course is to break down the nonlinear problem into clearly defined steps, give an overview of the physics involved and show how to successfully implement practical solutions using nonlinear Finite Element Analysis.
---


Content
Background to Nonlinear

Linear versus Nonlinear
Types of Non-Linearity
Scope of the Analysis
Applicability in Aerospace

Nonlinear Strategies

Iteration and Convergence
Load Segmenting

Geometric Non-Linearity

Linear Buckling Limitations
Nonlinear Buckling Methods
Post Buckling
Follower Forces

Material Non-linearity

Background
Failure Criteria
Hardening
Meshing Requirements

Contact Non-Linearity

Contact Surface Methods
Modeling Techniques
Hints for Achieving Convergence

Advanced Non-Linear Methods

Mesh Adaptivity and Element Erosion
Cohesive Zone Elements
Virtual Crack Closure Technique
---

About the Instructor
Tony Abbey has created and taught a wealth of FEA training material over the past 20 years. Thousands of engineers across the world have benefited from his live and e-learning based classes. He has developed a reputation for providing the student with an experience that is full of insight gained from his extensive experience, but which also challenges and motivates.Tony has been working with FEA for nearly 40 years, both in Industry and for leading FEA software providers in the UK and the US.
His informal and interactive presentation style allows the key concepts to be taught in a manner which involves participants fully in the course material. Tony presents papers at NAFEMS and other conferences on a regular basis and has been involved with NAFEMS since its formation. He has written a series of very popular articles on FEA for Desktop Engineering magazine.
---
Registration

You can register to attend using the "order" button on the right.
Members of NAFEMS: $275
Non-members of NAFEMS: $450
These fees include attendance at the training course, course notes, morning and afternoon refreshments, and lunch. Hotel accommodation is not included.

---


Conference Venue

National Center for Aviation Training
4004 N Webb Rd.
Wichita, KS 67226
316.677.9400 / 866.296.4031
Hotel
La Quinta Inn & Suites Wichita Northeast
2660 N. Greenwich Ct.
Wichita, KS 672261
Phone: 316-500-6220
For a discount, refer to the "NIAR" rate when booking your reservation.
Details
Event Type: Course
Location: Wichita, KS United States
Date: November 10, 2017

One Day or a Week of Learning
Join us in Wichita for all, or some part, of the week of November 6th - 10th. For the first time ever, we are offering five consecutive days of learning with multiple training courses and a conference. Below is the schedule:
Monday, November 6th:
Training: Fatigue & Fracture Mechanics Analysis
Tuesday, November 7th:
Training: Modeling Joints & Connections
Wednesday, November 8th:
Conference: Aerospace Simulation Engineering: The Big Issues
Thursday, November 9th:
Training: Aerospace FEA Modeling Techniques
Friday, November 10th:
Training: Nonlinear Analysis


Note: We will be providing substantial discounts to individuals interested in attending more than one of the above options. For those bundle options, please choose one of the following:
If you would like to enroll multiple people in one, or more, of the options mentioned above, please contact us at americas@nafems.org, or call 1.614.360.1922.


Questions?
Please contact the NAFEMS Americas office with any questions.