V&V: Verification & Validation
in Engineering Simulation
2-DAY MASTER CLASS - 25th & 26th April 2017
Building simulation credibility in an industrial context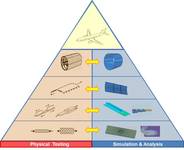 Engineering simulation plays an increasing role in industry's search for competitiveness and technology based innovation at any stage of the design, qualification and certification of their products. Key decisions and product qualification/certification increasingly rely on virtual tests and digital simulations,creating a major paradigm shift in which the objective of physical tests is progressively moving from a demonstration of compliance to a reference for analysis validation.This trend in industry is shown through adoption of new terms such as"realistic simulation" and "virtual testing". This situation creates new responsibility for the engineer to guarantee the required confidence level.
This new approach requires secured processes for the verification and validation(V&V) of simulations bringing evidence of their predictive capability. In particular, programme managers now require formal evidence on "simulation fit for purpose" on which they can build confidence and take decisions. In addition, the increasing situation for extended enterprise creates new constraints to guarantee safe and robust analysis processes.
At the same time, and due to the economic pressure, V&V activities are frequently seen as an additional cost that can easily be reduced and even fully cut, thus underestimating the induced risks. In addition, V&V is not easy to implement because of the diversity of involved persons: managers, simulation experts,test specialists, software developers and quality controllers, software vendors…


Course objectives and benefits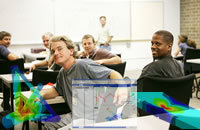 This Master Class is especially dedicated to V&V methodologies for numerical simulation in Engineering. Participants will be able to adapt or tailor the course methodologies to their specific industrial context, and further improve their V&V processes and plans.
The course has been taught over 20 times since 2013 all over Europe.


Who should attend?
Programme/project managers who need to make critical decisions based on engineering simulation results and wish to increase their understanding and visibility of the required V&V activities
Participants should have a few years of experience in engineering simulation for the design and development of industrial products.


Course context
All industry sectors confronted with numerical simulation V&V are concerned with this course. It is established on the solid knowledge of the tutors and the vision they have developed from their rich industrial experience, mainly within the aerospace and nuclear energy sectors and is primarily illustrated by FEA/Structure Analysis examples. The course is therefore of greatest interest to engineers involved in this technical domain, but will also appeal to engineers from other simulation domains because most of the V&V methodologies which are presented are generic in nature.
The course is neutral and independent of any particular software solution.
We limit the number of participants to a small group to facilitate dialog and exchanges between participants.


Programme
1. Introduction
a. Industrial context and stakes
b. Fundamentals of engineering simulation
c. Credibility for decision making
2. Verification & Validation of industrial products
a. V&V concepts for industrial products
b. V&V in Systems Engineering, hierarchical validation
c. Innovation in product development and TRL
d. Regulations and certification in aeronautics
3. Simulation management with focus on credibility
a. Simulation management with focus on capability management
b. Key management processes for credibility
− Management of simulation processes and data (SPDM)
− Competence management
4. Simulation V&V foundations & standards
a. Basic concepts
− Verification
− Validation and uncertainty quantification
− Predictive capability
− V&V processes
b. Guides and standards
− History of standardization in V&V
− Main standards: ASME, AIAA, NASA, NAFEMS…
5. Code verification
a. Error typology
b. Verification of algorithms
c. Quality assurance for software: methodologies for SW development, regression tests, exact and manufactured solutions…
6. Verification of analyses
a. A priori verifications: formal aspects, check-lists.
b. A posteriori verifications: space and time discretization errors, improvement of
results.
c. Example of verification check-list
7. Validation and simulation / test synergy
a. Validation process and hierarchical planning
b. Validation tests, simulation / testing collaboration
− Specificities and difficulties of validation tests
− Prerequisites for successful validation tests− Test uncertainties
c. Accuracy assessment: deterministic and statistical validation metrics…
d. Predictive capability: main attributes and how to assess it?
e. Industrial examples
8. Trends in realistic simulation
a. HPC infrastructure trends: new architectures.
b. New discretization techniques
c. Solver improvements, multi-physics, multi-scale, optimization…
d. Realistic visualization: issues and benefits.
e. Impact on V&V plans
9. Simulation Uncertainty Quantification (UQ)
a. Typology: random, epistemic uncertainties
b. Maturity of existing uncertainty quantification methodologies: Monte Carlo,
Latin hypercube, response surfaces, polynomial chaos, "Lack of knowledge"
theory, theory of evidence…
c. Sensitivity analysis, robustness (key parameters identification…)
d. Academic and industrial examples, methodologies and tools5. UQ best
practises
10. V&V implementation strategies
a. Responsibilities of V&V processes and actors
b. Implementation issues and obstacles
c. Simulation, V&V and industrial risks
d. Industrial justification: V&V business case, benefits versus costs
e. Best practises: planning and prioritization, maturity assessment and reporting
to decision makers, organization.
11. Course outcomes and conclusion
Venue
The Rubens at The Palace Hotel
39 Buckingham Palace Road
London
SW1W 0PS
T: +44 (0)20 7834 6600
W: www.rubenshotel.com

Situated in a prime location, The Rubens at the Palace is opposite the Royal Mews of Buckingham Palace and is moments from Victoria Station.
The Rubens at the Palace is the majestic 4-star luxury hotel that gives you the best of both worlds -on the one hand it recalls the magnificence and splendour of a bygone age; on the other, it gives you the latest in modern comforts and technology.

Accommodation
We have secured a limited number of rooms at the venue hotel, at a special rate of £229 including VAT and continental breakfast. Please contact Lydia Self - Groups Experience Manager directly on +44 (0) 20 79630709 or at email: groupsrb@rchmail.com, stating that you are attending a NAFEMS training course, to book rooms at the discounted rate. This reduced rate is applicable to NAFEMS delegates until 20th March 2017.
Details
Event Type: Course
Location: London U.K.
Date: April 25, 2017



This course is tutored by Jean-Francois IMBERT and Philippe PASQUET, high-level simulation professionals both benefiting from a long academic and industrial experience gained from leading companies. Their skills extend from numerical methods to solving industrial problems, especially in aerospace and nuclear area, and to analysis management. V&V is one of their key expertise, reason for which they have been asked for help by major European companies. They are recognised as one of the leading figures in the engineering analysis community in France.
Jean-François IMBERT



In order to read Jean-François IMBERT's biography, please visit the NAFEMS' tutors page.


Philippe PASQUET
In order to see Philippe Pasquet's biography please visit, the NAFEMS tutors' page.
Accreditation Policy
The course is agreed and under control of NAFEMS Education and Training Working Group (ETWG).
Cancellation Policy
Please note NAFEMS cancellation policy for all UK public training courses is as follows:-
Suitably qualified delegates may be substituted at any time prior to the start of the course


Bookings are accepted upon condition that either full payment is received before the course commences, or that a valid purchase order is received from a company that has a credit agreement with us


In the event of a delegate being unable to attend a course that they have booked upon then, NAFEMS will discuss the possibility of transferring to an alternative course. However, a suitable administration charge will be levied.


A refund of 50% of the course fees will be paid to delegates who cancel their booking and do not re-schedule to an alternative course, provided that the cancellation is received by NAFEMS at least four weeks in advance of the course. No refunds can be given for cancellations made after this time.


NAFEMS reserves the right to cancel the course, without liability, in which case all training fees will be refunded in full. However, NAFEMS cannot be held liable for any other expenses incurred by participants or their companies due to the cancellation.

NAFEMS will discuss the possibility of transferring to an alternative event/course, however an administration charge will be applicable.
For full terms and conditions, click here. This policy is subject to change.