Sponsorship Opportunities
Join us in Milton Keynes!
We would like to extend an invitation to your company to be part of the NAFEMS UK Conference 2020 – Inspiring Innovation through Engineering Simulation.

There are several outstanding opportunities available for your company to sponsor or exhibit at the conference, giving you maximum exposure to a highly targeted audience of delegates, who are all directly involved in simulation, analysis, and design.
Platinum Sponsor Sponsor Exhibitor

Team with NAFEMS
Sponsors and exhibitors will have the chance to promote their participation prior to the event through the various sponsorship packages we are offering. Your participation in this conference will provide a positive impression of your company's commitment to best practices in the area of engineering simulation. The NAFEMS UK Conference provides an excellent opportunity for promotional and product / project awareness, and direct access to technology leaders.
A Unique Chance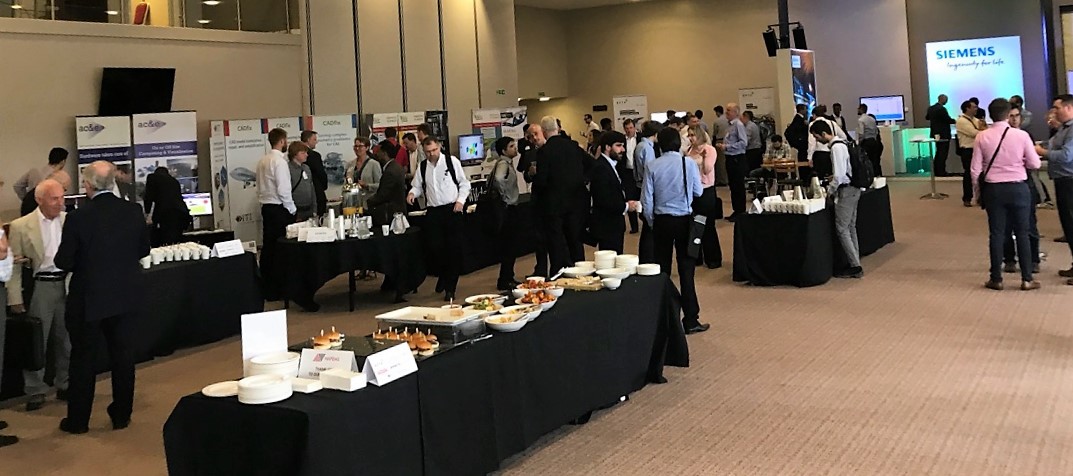 The NAFEMS UK Conference presents a unique opportunity by providing a forum where all individuals can represent their solutions in a single location to a large number of potential clients, and collaborate with other vendors in this field. What better way to justify your support of this event!
The exhibition area will be central to the conference itself, ensuring that there is a consistent level of traffic at all times, giving you the chance to meet as many of our delegates as possible.
Benefits
So what are the benefits of sponsoring and exhibiting at the conference?
Promote your company to a large but highly focused group of individuals who have a pre-qualified interest in your product.
Establish important contacts within the industry.
Increase your company's visibility and standing in the analysis community.
Showcase your latest product releases and service offerings.
Discover exactly what your target market needs from you, and what trends are emerging across the industry.
Meet with existing clients at the conference, clearly demonstrating that you are dedicated to best practice in the engineering analysis world.
Opportunities
Sponsorship is an excellent way of raising the visibility of your company with the delegates, many of whom are in a position to influence, or approve, the purchase of software, hardware, and consultancy solutions. The different options are outlined below and all provide many benefits to your company. Your presence at the conference will provide you with excellent exposure.
Platinum Sponsor Sponsor Exhibitor
UK Conference 2018 Representation
We are delighted that the following companies were represented at the last UK Conference held in in 2018:-
8020 Engineering Limited; Abercus Limited; AgileTek Engineering Limited; AIES Ltd.; Airbus Operations Ltd; Altair Engineering; Anglian Water Services Ltd; Anglin; Applied Computing & Engineering Ltd; Autotech Engineering R&D UK Ltd; AWE PLC; Axiom Engineering Associates Ltd.; BETA CAE Systems UK Ltd; Bristol University; Brunel University London; Cambridge Consultants Ltd; Cambridge Design Partnership; Cambridge Flow Solutions Ltd; Caterpillar Inc; CBM; CD-adapco; CFMS Services; Cranfield University; Crown Packaging Manufacturing UK Ltd; Cummins Engine Company – DAR; Cummins Ltd; Cummins Power Systems; Cummins Turbo Technologies; D J Goode & Associates Ltd; Dassault Systemes SIMULIA Ltd; DETC/HSSMI; Dutton Simulation Ltd; EDR&Medeso Ltd; EnginSoft UK Ltd; ESI Group; ESTECO SpA; Ferroday Ltd; Ford Motor Company; FTS Engineering Answers; Fujitsu Laboratories of Europe Limited; Future CAE Technologies (UK) Ltd; Gall Zeidler Consultants; GBE; Gestamp; GexCon; Granta Design Ltd; GRM Consulting; HBM Prenscia; Honda R&D Co., Ltd. Atomobile R&D Center; Hyundai Mobis; IHS Markit; Immense Simulations Ltd.; Imperial College London; International TechneGroup Limited; INTES GmbH; Intrinsys Ltd; ITI - International TechneGroup; J W Analysis; Jaguar Land Rover; JM Dixon Associates Ltd; Liverpool John Moores University; Loughborough University; MacTaggart Scott & Co. Ltd; MAGNA - Engineering Center Steyr GmbH & Co.KG; Malvern Instruments Ltd; Malvern Panalytical; MDAO Technologies; Mechadyne International Limited; Mentor, a Siemens Business; MSC.Software Ltd.; National Composites Centre; Niftylift; Nissan Technical Centre Europe; Nuclear AMRC; Ocado; Office For Nuclear Regulation; PepsiCo; Philips Lighting Hungary Kft.; Polaris Britain Ltd; QinetiQ; QTS Group Ltd; Queen's University of Belfast; Quesada Solutions Ltd; Ramsay Maunder Associates; Robert Bird Group; Rolls-Royce plc; Rolls-Royce Submarines; Royal Enfield,a unit of Eicher motors Ltd.; School of Mechanical Aerospace and Civil Engineering, University of Manchester; Siemens Gamesa Renewable Energy B.V.Brunel; Siemens Industry Software; Siemens Industry Software Simulation and Test Limited; Siemens PLM Software; Strand7 UK Ltd; Strategic Simulation & Analysis Ltd. (SSA); Strathclyde University; Synopsys, Simpleware; Tata Steel Automotive Engineering; Transport for London; Triumph Designs Ltd; TWI Ltd; Universiti Kuala Lumpur Malaysia; University of Bristol; University of Exeter; University of Wales; Vectayn Ltd; Volume Graphics GmbH; Wentworth House Partnership; Whittle Lab., Cambridge University Engineering Department; Wilde Analysis Ltd and Wood plc.
Sponsors