Connections play an integral part in products across a wide range if industries. They are important not only with respect to structural integrity and performance of the products themselves but in the jigs, fixtures and test hardware used throughout the product manufacture and qualification process. However, connections can be difficult to model in finite element terms. 
This collection of NAFEMS publications give an overview of analysing joints of connections. The three-book collection contains:

Procedural Benchmarks for Common Fabrication Details in Plate/Shell Structures

State of the Art Review - Weld Simulation Using Finite Element Methods
FEM Idealisation of Joints
---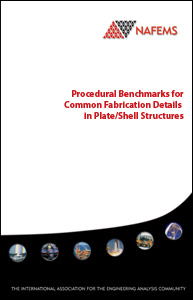 Details:
J. Wood
First Published - March 2005
Softback Report - 66 Pages
This report, presents outcomes from the Education and Dissemination Workshops held at Noordwijk and Palma on October 2003 and March 2004 respectively. The results from a 'round-robin' exercise, completed as part of this activity, are also documented. These workshops and the 'round-robin', examined the procedures used in various industry sectors for the modelling and assessment of common fabrication details in plate/shell construction. The primary aim of this exercise was to examine "best practice" in modelling and assessing such detail (with general shell elements) and to disseminate this to the FENET membership and beyond. However, the 'round-robin' was seem as an excellent opportunity to examine such practice and to observe resulting educational and quality assurance related issues.
It was anticipated that the unique forum provided by FENET would provide an excellent basis for these studies. As part of this work package, three 'procedural benchmarks' were developed to reflect some of the modelling issues relevant to fabricated structures. These benchmarks and selected reference solutions, will provide a worthwhile educational resource. The benchmarks also formed the basis of the 'round robin' exercise. While the benchmarks have many of the characteristics of traditional benchmarks, they differ in that they are designed to focus on some of the modelling issues that analysts are faced with and the various procedures adopted in the analysis and assessment process.

Section 1 of the report provides a brief overview of the various workshops involved in this study, as well as some background to the topic area. The specifications for the Procedural Benchmarks and pro-forma results forms are presented in section 2. These should provide a useful reference for any organisation intending to use them as part of, say, a staff development programme. Observations from the 'round robin' are included in section 3 and these detail some surprising results. In the first two benchmarks about half of the respondents provided results which suggested that they had made modelling errors. In the third example, only two out of ten respondents realised that this is a nonlinear geometric problem. Whilst some contributions were no-doubt completed under time pressure, it can be argued that this is a reflection of the everyday industrial environment for many engineers. The resulting levels of human error and lack of results checking, for what some might regard as simple case studies, must be of wider interest and concern. The general spread of results arising from the different modelling and assessment strategies should also be of interest. The outcomes certainly confirm the ongoing role that organisations such as NAFEMS have, in ensuring quality and promoting the education and development of analysts and engineers. Hopefully the educational and quality implications from the study will provide some impetus to general activity in this area. It is interesting to reflect on the fact that the same exercise and same general conclusions, could probably have been made 30 years ago.
Selected reference solutions for the benchmarks are presented in sections 4-6 and these include an examination of the main issues identified in the benchmarks. The main issues selected for examination were:
The modelling and assessment of intersections;
The modelling of reinforcement plates;
The modelling of offset shell midsurfaces.
All of the details include welds and the modelling and fatigue assessment of these are obviously an integral part of the whole exercise. Assessment of the results from the benchmarks was made according to various industry standards and this is also reported. The appendices to this report, provides some useful background reference material on the modelling of welds and also some interesting observations on the modelling of plate/shell intersections.
---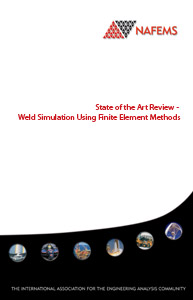 Details:

A.A. Becker
First Published - March 2005
Softback, 20 Pages
Welds are often an essential part of engineering structures. Residual stresses introduced in the welded regions, due to the nonlinear thermal processes during welding, can have detrimental effects, such as stress corrosion cracking, hydrogen-induced cracking and reduced fatigue strength. It is therefore pertinent to simulate the process of welding to predict the behaviour of welded structures from finite element residual stress and deformation results.

This report introduces finite element volume methods for the modelling of welds and it depicts a brief history of the simulation of welds. A description of the heat flow processes and solid phase transformations is given in the theoretical background section. The procedure of thermal and mechanical finite element analyses is explained in the third section, titled Finite Element Weld Simulation, which also presents other examples of finite element analyses and describes the effects of solid phase transformations incorporated in the simulation of welds.
In the fourth section of the report, related research published in literature is discussed, proposing many modelling considerations which are relevant to weld simulation. This includes parametric studies and characterisation of residual stresses, the effect of material properties on residual stresses, three-dimensional geometric influences, an outline of the adaptive mesh technique and the shrinkage volume approach, and the combination of welding simulation with other heat transfer engineering processes.
Friction stir welding is described in the penultimate section of the report, which is followed by a description of the process of inertia friction welding. The finite element simulation of the two types of friction welding is discussed.
---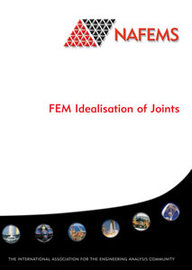 Details:
Compiled by: Peter Hopkins 
First Published - January 2012
Softback, 157 pages
Joints are an integral part of products in all sectors of industry, Civil and Offshore, Power and Pressure, Aerospace, Land Transport, Consumer Goods and Biomechanical applications. Joints are important not only with respect to structural integrity and performance of the products themselves but in the jigs, fixtures and test hardware used throughout the product manufacture and qualification process.
Components are assembled together to maintain structural integrity and performance using a variety of methods, either temporary mechanically fastened allowing for repeated disassembly and reassembly necessary for maintenance activities or permanent attachment.

Mechanically fastened joints may be temporary such as: bolts into nuts, anchor nuts or tapped holes, or permanent such riveted joints. Permanent joints also include for example, bonded, single lap, double lap, welded, fillet welds, spot welds, seam welds and soldered or brazed.
To maintain performance the joints need to survive all the loading environments experienced during the manufacture, assembly and testing and to deliver the required product performance throughout the in service life. These can be steady state or cyclic from vibration, shock and thermal environments or combinations of such loads at various points in the products life cycle.
Companies in the various industry sectors will have their own internal processes and methods for assessing structural integrity of the joints used with respect to their particular product or will make use of data from engineering bodies or standard engineering texts such as those listed below for example:
Engineering Science Data Unit, ESDU, who provide data items on various engineering analysis methods and materials.
Mechanical Engineering Design by J.E. Shigley, C.R. Mischke and R.G. Budynas.
ECSS-E-HB-32-23A Space Engineering, Threaded Fasteners ESA-ESTEC.
VDI 2230 Part 1Systematic Calculation of High Duty Bolted Joints - Joints with One Cylindrical Bolt
Handbook of Bolts and Bolted Joints by J. H Bickford and S. Nassar.
Product structural integrity is now routinely assessed using simulation techniques. Therefore it is necessary to represent the wide variety of joints used in product assemblies with an idealisation at system level to represent the stiffness characteristics and to recover loads for application to more detail models to assess the integrity of the joint itself.
The availability of sources of information in the public domain on idealisation of joints in simulation of the performance of bolted, riveted, welded, brazed and soldered joints is not well defined.
This document provides a synopsis of a NAFEMS seminar on Idealisation of Joints held in Wiesbaden in April 2010 including a summary of the industry sectors that presented information, the scope of information presented and copies of papers presented.