Details:
A. Konter
First Published - November 2000
Softback, 63 Pages
Linear finite element analysis has for many years been widely used in the civil and mechanicals engineering fields and, in particular,in the construction, automotive, aerospace, and offshore sectors. Finite element analysis is an integral part of the design cycle in many companies.
Finite element programs that have the capability to solve non-linear problems have also been available for many years but often have been considered for use only in specialised industries such as nuclear engineering and advanced gas turbine research. In fact, the application of non-linear finite element analysis to general engineering has been growing rapidly, using commercially available packages of high quality and reliability. This book deals specifically with the subset of non-linear problems involving contact or friction.
In this book the aim is to give sufficient background to the terminology and techniques specific to contact and friction analysis. In addition typical problems areas, which may arise, are highlighted and guidance as to how they can be resolved is provided. A number of examples are used throughout the text to illustrate the concepts and potential applications.
Details:
A. M. Prior
First Published - January 1998
Softback, 28 Page
In this book we aim to provide some background information about the principles of the finite element technique as applied to nonlinear problems. The benefits of using nonlinear finite element analysis are highlighted, and some general guidelines are given for efficient use of thetechnique. The term FE will be used throughout the booklet to mean finite element.
The book is aimed at decision-makers; those practising engineers and managers who may influence the design process within their organization. The objective of the booklet is to demonstrate to the engineers,in a clear and practical manner, he reasons why their organizations should be using nonlinear FE analysis.
The decision to use any tool or process should be driven by commercial factors. A company should consider the use of any available tools that may reduce its development costs, reduce its lead times, and enable it to develop products that are better than those produced by its competitors, or enable it to manufacture products using less material and less complex orcostly processes.
In many cases the use of nonlinear finite element analysis can provide these kinds of benefits. It is perhaps appropriate, therefore, that engineers should consider whether they can afford not to use nonlinear FEanalysis.
There are, of course, some negative aspects to this issue: any prospective user of nonlinear finite elements should consider the additional costs of the software and the computer on which to run it, the costs associated with training staff, and the additional work required to generate the material and structural data that a good analysis demands. In this booklet we endeavour to provide a balanced view of the benefits and costs of using nonlinear FE analysis.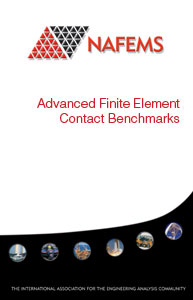 Details:
A. Konter
First Published - April 2006
Softback, 60 Pages
NAFEMS has published a survey on FE Analysis of contact andfriction and a booklet on how to undertake contact and friction analysis. Acontact benchmarks report on two-dimensional problems was published as  step in establishing a set of FE Contact benchmarks. It was acknowledged that although the current published NAFEMS benchmarks were limited in scope, they were important as the first step in establishing contact benchmarks.
A small "FENET Working Group on Contact" has been assembledwith the collaboration of the NAFEMS CSM Working Group. Following discussionson the development of new advanced benchmarks, it was agreed to concentrate ononly 5 contact benchmarks, as follows
2D Contact of cylindrical roller
3D Punch (Rounded edges)
3D Sheet metal forming
3D Loaded pin
3D Steel roller on rubber

The selected contact benchmarks exhibit the following features:
3D contact
Frictional stick-slip in contact area2
D/3D Linear versus quadratic elements
Shell contact
Large strain contact
Metal forming
Mesh dependency
Compression of rubber
Rolling contact

Further FE analyses were performed to establish the geometric parameters, material constants, values of the applied loads and the coefficient of friction.
The current report presents the results of the FE analyses performed on 2D and 3D approximations of the proposed problems. Since all proposed benchmarks can be reasonably well approximated with 2D or an axisymmetric solution, all target results presented here have been obtained with 2D or an axisymmetric FE analysis. In addition, 3D analyses have been performed and the results have been compared with the initial 2D solutions (with the exception of Contact Benchmark 1).
Frequently, reports on results of benchmark analyses present numerical solutions for selected problems, generated by different users using different FE codes. Often the selection of different numerical input parameters by the analyst is not presented in the report and the analyst presents his"best choice" of the generated solutions for a particular problem.
As a result the effect of specific parameters, such as applied mesh density, element type, contact parameter settings, number of loading steps etc. is difficult to quantify and it is not clear whether obtained differences are caused by differences in the applied FE code or differences in user input. The results presented in this report not only compare results of different FE codes using as closely as possible identical input parameters, but also show the effect of variations in these parameters.