NAFEMS World Congress 2017
Summary of Proceedings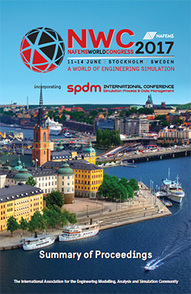 This book contains summaries of the papers presented at the 2017 NAFEMS World Congress: "A World of Engineering Simulation", incorporating the 3rd International Conference on Simulation Process & Data Management.
This was the 16th International Congress organised by NAFEMS, bringing together world leading industrial practitioners, consultancies, academic researchers and software developers with a common interest in engineering analysis. The event provided an exclusive insight into established methods and best practices, along with a vision of how future technologies will have an ever-increasing impact on the product development process.The 3rd International Conference on Simulation Process & Data Management ran alongside the 2017 Congress. This now well-established event allowed all those with an interest to take part in the only truly independent, international forum dedicated to SPDM.
2017 also saw the introduction of a dedicated symposium on Manufacturing Process Simulation & Additive Manufacturing. This is an area in which we have seen increasing interest over the past few years, and we were delighted to offer this additional symposium to Congress attendees as part of their registration.
Papers in this book are ordered by presenter surname, and copies of the full papers can be found on the enclosed USB drive.

NAFEMS Members may also download the papers and presentations (PDF) by searching the
Resource Centre
Note: Members must be logged-in to view the presentations.
Purchasing Details
Members Price
£129 | $170 | €150
---
Non-Members Price
£129 | $170 |
€150
---
Order Ref: QAIC16

About
ISBN: 978-1-910643-37-2
First Published - June 2017
Package: USB (PDF format) and printed conference proceedings (360 pages)