Quality Assurance Collection
This collection of NAFEMS publications can be used together to assist organisations in developing a quality management system:

Quality Management in Engineering Simulation - A Primer for NAFEMS QSS
Engineering Simulation – Quality Management Systems – Requirements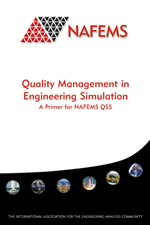 Details:
J.M. Smith
First Published - November 2007
Softback, A4, 34 Pages
The purpose of this Primer is to explain and elaborate on the requirements of NAFEMS QSS 001:2007 [1], which is a supplement to quality standard ISO 9001:2000 [2] specialised for applications in engineering simulation. It is intended that the Primer is not industry or application specific.The Primer can be used to assist organisations in developing and implementing a quality management system, or in adapting to, or integrating with, an existing quality system. With the aid of the Primer, an organisation should be able to develop a quality management system either for internal application or for self- or third-party certification, as required, without undue reference to either ISO 9001 or QSS 001. For the purposes of clarity and completeness, the guidance given in this Primer exceeds the requirements stated in the ISO standard and the QSS.

The Primer begins with a brief overview of the engineering simulation process in Chapter 1, and proceeds in Chapter 2 to address various aspects of quality management including standards, systems and certification. Quality management principles, project processes and procedures are discussed in Chapter 3. From Chapter 4 onwards, the structure of the Primer aligns with the clauses of ISO 9001 and QSS 001 in order to support their interpretation and application.
The clauses of QSS 001 are included in the text at appropriate locations, where they are indented and italicised. All references given in these sections refer to QSS 001.
Appendices A to C relate to QSS 001 and refer to simulation categories of importance, personnel competence, and QSS terms and definitions. ISO 9000 terms and definitions are presented in Appendix D.
Minor amendments to the QSS, documented on QSS Errata 01/07/08, were incorporated in the relevant sections of this Primer.



Details:
J.M. Smith
First Published - January 2009
Hardback, A5, 161 Pages
This NAFEMS QSS 001 is a quality management system supplement for engineering simulation, which conforms to the internationally recognised quality standard ISO 9001:2000. Proper application of QSS 001 will ensure that quality principles are built into the simulation process at a fundamental level, facilitating evaluation and control of quality at every stage of the process and enabling engineering simulations to be consistently carried out to the required professional standards.
Widespread growth in the use of management systems has increased the need for organisations providing engineering simulation (see NOTE) to ensure they operate within a quality management framework compliant with NAFEMS QSS 001 and ISO 9001. NAFEMS QSS 001 contains requirements which organisations providing engineering simulation need to meet if they wish to demonstrate that they operate a recognised quality management system, are technically competent, and are able to generate technically valid results.
QSS 001 can be used by internal and external parties, including certification bodies, to assess the organisation's ability to meet customer, regulatory and its own requirements. The decision on whether to adopt a quality management system for engineering simulation needs to be a strategic decision made by the top management of the organisation. In developing QSS 001, care has been taken to interpret and incorporate all the requirements of ISO 9001 that are relevant to providing simulation work meeting professional standards. Section 7 specifies requirements for technical competence, while the remaining sections specify requirements for sound management. Conformance of the organisation's quality management system to the requirements of ISO 9001 does not in itself demonstrate the competence of the organisation to produce technically valid simulations. Nor does demonstrated conformity to QSS 001 imply conformity to all the requirements of ISO 9001. Therefore, organisations which conform to QSS 001 also need to operate in accordance with ISO 9001.
Certification bodies may use QSS 001 and ISO 9001 for joint assessment and certification to confirm the competence of organisations providing engineering simulation.

Scope
QSS 001 specifies requirements, supplementary to ISO 9001, for quality management in engineering simulation employing computational methods. It is intended for application where a simulation organisation needs to demonstrate its ability to consistently provide engineering simulation meeting customer and applicable regulatory requirements, and which aims to enhance customer satisfaction through the effective application of a quality management system, including processes for continual improvement.
Applicability
All the requirements of QSS 001 are intended to be applicable to all organisations employing computational methods in engineering simulation, regardless of their type and size. Where any requirements of QSS 001 cannot be applied due to the nature or scope of the organisation, these can be considered for exclusion. Where exclusions are made, claims of conformity to QSS 001 are not acceptable unless these exclusions are limited to the requirements in section 7, and such exclusions do not affect the organisation's ability, or responsibility, to provide simulations that meet customer and applicable regulatory requirements.

---
Your comments
---
Add your comments
Anonymous
on 28th July 2016 - 1:00 am
Purchasing Details
Members Price
£45 | $59 | €54
---
Non-Members Price
£250
| $328 | €299
---
Order Ref: B04