DBA is normally used in the design of pressure vessels and pressure components that lie outside the Design by Rule (DBR) guidelines in the various Codes of Practice. DBA may also however be used as a general alternative to DBR in more recent Codes of Practice. Its use is expected to rise.
This module makes reference to the content of the DBA requirements of both EN13445 and ASME VIII Div2.
Given the history of DBA development, the content of these modules should however be relevant to other DBA codes.
The DBA module is divided into nine units:
Introduction to Design by Analysis
Elastic Analysis
Plastic Analysis
Creep
Fatigue
Buckling
Other Failure Mechanisms
Codes of Practice
DBA in Action
Each unit, apart from DBA in Action, consists of a set of lesson notes which the delegate can use as a tool to develop new competencies or as a refresher. As with the FEA module, worked examples and tutorials are also provided to help delegates develop an understanding of the lesson material. Numerous self test quizzes are also provided to allow the delegates to verify understanding of the topic under study. Explanations to the self test quiz questions are also provided. The DBA in Action unit contains more detailed, design code relevant, worked examples.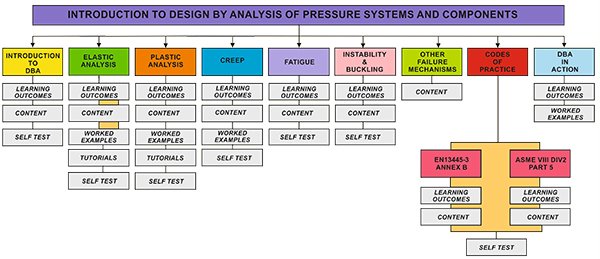 Currently in the European pressure vessel code EN 13445 there are two approaches to Design by Analysis. One is the so called Direct Approach while the other is historically older and is referred to as the Elastic Stress Categorisation approach. Both have different merits according to the complexity of the design, the application of the finished vessel or component and also to the computing power and knowledge available within any particular organisation.
In the new ASME VIII Division 2 Part 5 Design by Analysis, a similar direct approach, using plastic analysis, is also taken.
A number of design checks need to be made to certify a design according to these DBA codes. Guidelines are provided to prevent failure due to local yielding, plastic collapse, buckling, ratchetting and fatigue - with creep-related design checks being a more recent addition.
Each unit or sub-unit consists of a set of lesson notes, which the delegate can use as a tool to develop new competencies, or as a refresher course. Worked examples and tutorials are also provided to help develop an understanding of the lesson material. Self test quizzes are provided to allow the course delegate to verify understanding of the topic under study.
How to use the module
Although it is not offered as part of a formal academic programme, this course was designed to be equivalent to a module of a one year full-time MSc course which generally consists of 6 off taught modules and a 3 month project.
This then gives you an idea of the student effort hours expected, had this been such a credit bearing course with assessment. You will also be aware that you have 5 months access to tutor support, to answer questions relating to the course material. This obviously doesn't mean that coverage of the course material requires 5 months effort. The 5 months is provided in recognition that the course will be taken part-time while you are working. The 5 months will allow you to match your effort input to workload cycles in your employment.
The course was also designed to support an informal, exploratory approach to self-learning. In this regard, there is no syllabus or formal timetabled programme of learning. Instead, the material has hyperlinks, which allows convenient links to further study where thought necessary.
However, while there is no programme structure, it is recognised that the structure can be helpful to the learner. Basically, the structure and content covered can be matched to individual background, interests and goals to some extent.
How do I access the course?
After purchase, the course will be added to your "my downloads and modules" area with your mynafems account. You will then have immediate access to the course online, and your tutors will be in touch shortly afterwards.
Please note that there will be no tutor support during the months of July and August. If your support time runs during these months, your access will simply be extended.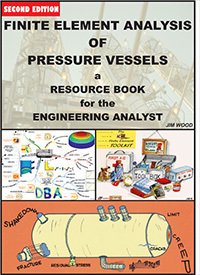 Further reading and information
The 350 page accompanying resource book for this course, "Finite Element Analysis of Pressure Vessels - A Resource Book for the Engineering Analyst" by the Course Director, Jim Wood, is available free of charge.