Basic Finite Element Analysis (FEA)
NAFEMS e-Learning Course
one 2-hour session per week
Ideal for design engineers wanting to learn more about
the basics of FEA
Course Process and Details
This course is completely code independent. No software is required.
Each topic in the class is treated as a building block and is presented using an overview of the physics and theory involved. The math is kept simple and the emphasis is on practical examples from real life to illustrate the topic. The mapping to Finite Element analysis techniques is shown with numerous workshops. The tutor will be running analysis interactively and involving the students in the process via Q and A periods during each session, follow up emails and a Course Bulletin Board
Full notes are provided for the students, together with personal passwords for e-learning backup material, bulletin board access, etc.
Students will join the audio portion of the meetings by utilizing the VoIP (i.e. headset connected to the computer via headphone and microphone jacks) or by calling into a standard toll line. If you are interested in additional pricing to call-in using a toll-free line, please send an email to: e-learning @ nafems.org .
Who Should Attend?
This course is aimed at engineers who wish to learn more about how to apply finite element techniques to static linear analysis in the most effective manner. Ideally a student should have some experience of FEA analysis, but this is not essential. The material that is presented is independent of any particular software package, making it ideally suited to current and potential users of all commercial finite element software systems. This course is a must for all engineers aiming to use Finite Element Analysis as a reliable predictive tool for structural analysis.
E-learning classes are ideal for companies with a group of engineers requiring training. E-learning classes can be provided to suit your needs and timescale. Contact us to discuss your requirements.
Course Program
Note: This is a four-week course. Each session represents one 2-hour session each week (Note: Sessions may last for 2.5-3 hours, including the Q&A sessions.) Recordings of each session are made available to course attendees in the event they are unable to participate in one or more of the live meetings, or if they wish to review the material following each session.
Session 1
Background to Finite Element Analysis

Origins of FEA , leading to today's process

Emphasis on limitations of a displacement solution

The route from CAD to Mesh to Solver to Results

A simple case study – a bracket

Simple Element stiffness matrices described

•Grid Points , Degrees Of Freedom (DOFs)

Overview of Element Types

1d elements

2d elements

3d elements

Solid 3D elements: Hex versus Tets, the trade off

Types of meshing and meshing issues

I-beam example spanning element types

Session 2
Making healthy models

Mis-matched DOF'S and other issues

Element distortions – effect on accuracy

Convergence checking

Solver and Preprocessor checking

Post processor checking and the dangers of smoothing

Stress concentrations and stress singularities

Bracket lightening hole example

Constraints

Constraint methods

Real world boundary conditions

Poisons effect

Case Study – bracket analysis

Linear Contact methods – new technology to supplement constraints

Loading Types

Distributed load, Point Loading

Real world loading versus FEA

Bearing load methods

Nonlinear implications

Centrifugal and Inertial Loading

Unit load cases for better understanding

Case Study – tanker body under cornering and accident loading

Session 3
Multi Point Constraints (MPCs)

What are they and why use them?

Different terminologies and usage

Soft and rigid load and constraint distribution

Making Life simpler

Symmetry

Anti-symmetry and Axi-symmetry

Sector Symmetry

Plane Stress

Plane strain

•Comparing 1d, 2d, 3d modeling case study of a pressure vessel

Understanding the objective of the analysis

Clear view of scope of problem – how do we tackle it

Resource and timescale factors

FEA Analysis objectives –case study

Looking at Computer Aided Design geometry

Why not use 20 million elements

Trade offs

De-featuring

The reality of CAD models
Manual methods of meshing
Session 4
Engineering Assessment

Anticipate the load paths

Free body Diagrams

Force Balance

Review of Stress and Load fundamentals

Revisiting the I-Beam, comparing theory with FEA

Checking the answers

Ways of checking the results

What type of stress do I use?

Review of fundamentals

Post Processing and More Checking

Other Checks

Brief Overview of Other Topics

Buckling

Introduction to Non-linear Analysis

Introduction to Dynamics and Normal Modes Analysis

Introduction to Composite Analysis

Session 5
Feedback from former e-Learning students:
"This course did everything right. From organization to presentation to interaction, this is a good model for what online training should be." B.T.

"Tony's command over the subject and excellent teaching skills made this course worthwhile." G.K.

"Super! Doesn't get better than this. Good idea to start having e-Learning courses." R.P.

"I'm really happy not to pay a big fraction of my annual training budget to airlines and hotels. A BIG plus to e-learning." V.G.


Special Note(s):
Telephony surcharges may apply for attendees who are located outside of North America, South America and Europe. These surcharges are related to individuals who join the audio portion of the web-meeting by calling in to the provided toll/toll-free teleconferencing lines. We have made a VoIP option available so anyone attending the class can join using a headset (headphones w/ microphone) connected to the computer. There is no associated surcharge to utilize the VoIP option, and is actually encouraged to ensure NAFEMS is able to keep the e-Learning course fees as low as possible. Please send an email to the e-Learning coordinator (e-learning @ nafems.org ) to determine if these surcharges may apply to your specific case.
Just as with a live face-to-face training course, each registration only covers one person. If you plan to register a large group (10+), please send an email to e-learning @ nafems.org in advance for group discounts.








Upcoming Session:
Not Available to Attend this Time?
Would you like us to notify you when the next course on Fluid Dynamics Review for CFD is open for enrollment? If so, add yourself to the eLearning Waitlist!
Course Tutor:
Tony Abbey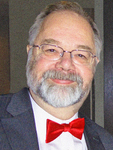 Read Tony Abbey's bio on the NAFEMS tutors page