The Right Model for the Right Problem
This seminar will be held in Paris, France on December 11th, and will be run exclusively in French.
What is the right model?
How to handle the right boundary conditions?
Do the simulation and the model have to cover every details of the object?
What to do in a multi scale context?
How to handle the right hypothesis for contacts, flush and gap, friction…?
What to do in a multi physics or multi application context?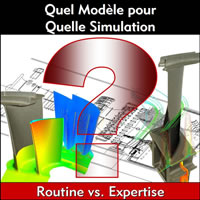 The seminar aims to clarify these critical issues through a couple of keynote presentations and a panel of multi applications examples.
We invite all engineers concerned by this theme to contact NAFEMS France (francois.costes@nafems.org ) to discuss presentation opportunities.
To register for this seminar or to learn more about exhibition and sponsorship opportunities, please switch your language preference at the top right of this page to "Francais".