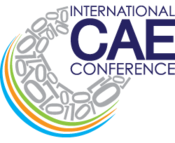 International CAE Conference
21-22 October




Numerical analysis technologies are more and more present in the industrial world
Numerical analysis technologies are experimenting a wider and wider application in the industrial world and they are transversally essential for product and process innovation at any level and in every industrial sector.
The International CAE Conference is the main event in Italy and one of the most relevant ones on a European level as far as numerical computation is concerned. It represents a meeting point that cannot be disregarded by designers, analysts, IT managers, engineers, professors, researchers, associations and students interested in simulation tools.
The main novelties of this year's edition will be represented by the workshop initiatives, one hour's fragments specifically devoted to simulation issues that will complement the paper presentation of remarkable Italian and foreign industrial managers.
The workshops will be held by engineers with simulation expertise and they will provide participants with the unique opportunity of having an in-depth insight on specific topics, such as dynamic simulation state of the art, analyses for offshore applications, etc. … delivering an added value to the daily routine practices, as well as discussing and sharing ideas and perspectives on the several technological sectors taken into account.
As usual, a relevant part of the Conference will be constituted by the exhibition area, the most important of its kind thanks to the always increasing number of companies participating with their booths. This is the ideal context to share one's experiences, to meet CAE technologies providers and hardware producers, technical press, members of associations and/or scientific bodies and committees, that on the other side might be interested in implementing their equipment to perform more complex investigations and analyses.
The International CAE Conference is a two days' event offering the suitable and most richest context to meet and share past and present experiences and challenges and to explore new business opportunities.
In one word: the ideal occasion to discuss today's limitless applications of "simulation based engineering and sciences".
For more information, please visit www.caeconference.com
Details
Event Type: Conference
Location: Verona Italy
Date: October 21, 2013