Ceetron Cloud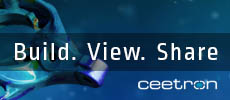 Ceetron Cloud is Ceetron's CAE end user offering for secure storing, viewing, and sharing in the cloud. It supports sharing through the sharing of URL, embedding of models in any web site, as well as my page-type portals. It also supports viewing in any browser (as long as WebGL), with no installation, no license, and no plugin.
Ceetron Cloud is delivered on a subscription basis, with standard, premium, and enterprise subscription levels.

For more information, see ceetron.com/ceetron-cloud.