This Website is not fully compatible with Internet Explorer.
For a more complete and secure browsing experience please consider using
Microsoft Edge
,
Firefox
, or
Chrome
NAFEMS Recognised Training
NAFEMS Recognised Training Courses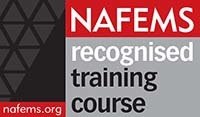 "NAFEMS Recognised" is a status that can be granted to training courses from external providers that teach attendees how to use an engineering analysis code and that also address a significant number of NAFEMS Professional Simulation Engineer competences.
This procedure is applicable to all code-dependent training courses with a connection to an engineering analysis software vendor. This procedure is only available to current NAFEMS members.
While it is expected that the training course will teach attendees how to use a particular software code it should be noted that "NAFEMS Recognition" is awarded on the strength of the PSE competencies that are addressed by the course.
The courses below have been formally recognised by the NAFEMS Education & Training Working Group (ETWG) as addressing a number of PSE competencies.