NEERE
Make distance an issue of the past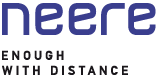 NEERE is an on-premises, web-based tele-collaboration environment, tailor-made for the engineering community.

It enables remote work and teamwork, and boosts productivity through the direct engagement of users from all over the globe, in a secure, enterprise-ready, multi-OS web-platform.
Integrated with ANSA, META, and META VR, NEERE provides a complete communication hub that makes sharing of knowledge and exchange of ideas effortless.
More information on: www.beta-cae.com/neere.htm