PTC & Ansys Technology Showcase | 30 November 2022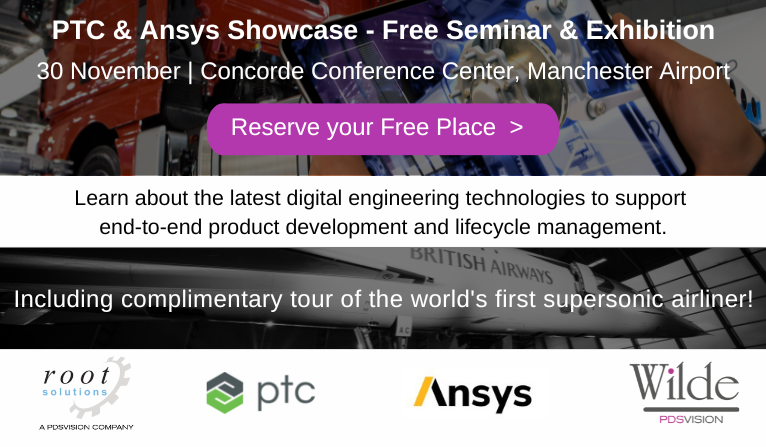 Join us at the Concorde Conference Centre, near Manchester Airport, to learn about the latest digital engineering technologies to support end-to-end product development and lifecycle management.

Reserve your Free Place > wildeanalysis.co.uk/ptc-ansys-showcase

Take Control of Your Digital Transformation

We have joined forces with our sister company Root Solutions to create a free showcase event to stimulate learning, ideas and conversation around the latest end-to-end digital tools from industry leaders Ansys and PTC to accelerate product design and assure product quality and safety within service.

This is an ideal opportunity to leave the office and meet like-mind professionals looking to transform their business processes through advanced Computer-Aided Design (CAD), Engineering Simulation (FEA/CFD), Product Lifecycle Management (PLM), Intelligent Materials Management, Augmented Reality (AR) and Industrial IoT, together with our complimentary technologies, tools and services.

In addition to a morning of concise presentations and discussion, there will be an exhibition of our combined range of digital technologies where you can meet our subject matter experts and discuss your individual business challenges. As we offer software, training and consulting services, you can find out how our solutions best meet your requirements.

To thank you for your support, we also include a complimentary optional tour of the supersonic Concorde – a must for any engineer or aviation enthusiast!

Who Should Attend?

Designers, Engineers, Managers, Directors and Executives involved in organisations developing products, manufacturing products, maintaining assets and/or undertaking R&D.

Join our Technology Showcase!

Simply choose one of the following options to reserve your place at our Technology Showcase at Concorde Hanger on the 30 November or request further information.

• Complete the form on our dedicated event page: wildeanalysis.co.uk/ptc-ansys-showcase
• Call us on +44 (0) 333 996 9930
• Email us at events@WildeAnalysis.co.uk

Please note that this event is free to attend but registration is essential.