Modal Analysis in Virtual Prototyping and Product Validation
Modal Analysis - Theory, Experiments and Applications in New Product Development. Whether it is automotive industry or aerospace industry, there is a certain Moore's Law that accelerates the rate of launch of new products. The product designers are under increasing pressure to launch the best quality products faster and under strict budgets. In the automotive, aerospace and many other industries, new products are developed and tested to meet the harsh real world load conditions. These products are subjected to dynamic loading conditions while in service.

It is a well known fact that simulation and Experimental testing go hand in hand in the development of new products. Simulation or virtual prototyping can provide significant cost and time savings if used correctly. At the same time, experimentation cannot be completely eliminated. Modal Analysis is one of the tools a designer uses to develop and analyze new product designs. Modal analysis can be performed both through simulation and experimentation. There are various aspects of Modal Analysis one needs to understand to use the tool effectively to design new products.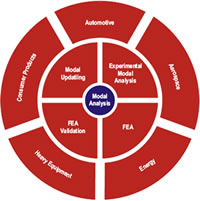 Importance of the workshop for organisations using FEM
The tutorials were handled by experienced industry exposed users of FEM.

This workshop offered vital guidance to judge which approximations are acceptable for solving the practical problems

Attendees learnt the easiest way of reducing product development cycle by an incredible extent validating the product design during its inception stages.

This workshop helped confirm FEA modals so as to gain confidence in them.

It helped Identify the failure modes in the prototype quickly.

The methods of verifying and validating the FEM results were demonstrated with real world case studies.

The globally recognised NAFEMS benchmark standards for FEM were explained.

Each participant was provided with high quality training notes.
Session Notes

Workshop Sessions 1 & 2

Workshop Sessions 3, 4, 5 & 6