Interazione fra simulazione & test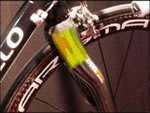 NAFEMS ITALIA, rappresentante italiana dell'Associazione inglese NAFEMS Int.l (The International Association for the Engineering Analysis Community), presenta un Seminario sull'interazione fra simulazione e test.
I modelli virtuali rappresentano sempre un'approssimazione della realtà e, quando possibile, i risultati ottenuti da essi al calcolatore dovrebbero essere confrontati col comportamento reale. Ciò risulta essenziale, inoltre, nello sviluppo ed ottimizzazione di modelli virtuali, applicando la cosiddetta procedura di validazione del modello. La correlazione fra test virtuale e fisico rappresenta la chiave per un processo di sviluppo efficiente, il bilanciamento ottimale fra queste due procedure variando da azienda ad azienda ed essendo funzione del tipo di applicazione di interesse o prodotto da sviluppare.
Il fine del seminario consiste nello scambio di conoscenza ed esperienza, fra vari tipi di industrie e per differenti applicazioni, nel combinare test fisico e virtuale.
Agenda
09.00 Registrazione Partecipanti
09.30 L'Associazione NAFEMS
G. Miccoli, NAFEMS Italia

10.00 Valutazione del comportamento dinamico di pompe a ingranaggi attraverso l'analisi integrata Test-CAE in ambiente LMS Test.Lab/Virtual.Lab
E. Mucchi, Università di Ferrara – Dip. Ingegneria

10.30 Miglioramento delle prestazioni in urto laterale di autovetture durante l'urto palo, metodologia di sviluppo in ambiente slitta
F. Mozzarelli, CSI

11.00 Coffee Break
11.30 La simulazione numerica a supporto della sperimentazione e dell'analisi diagnostica di materiali e strutture
G. Bolzon, Politecnico di Milano

12.00 Avionic equipment cooling system modelling, simulation and validation by means of laboratory test
P. Borrelli, Alenia Aeronautica

12.30 Metodologie numerico-sperimentali per lo sviluppo prodotto in ambito automotive
A. Rosati, Centro Ricerche Fiat

13.00 Pranzo Buffet
15.00 Integration between model test and numerical models to define operating conditions for offshore vessels
P. Monti, SAIPEM
15.30 Analisi FEM per la caratterizzazione mecccanica di una lega pseudo-elastica (NITINOL)
M. Bussone, SorinGroup

16.00 The synthesis of sound of church bells by means of dynamic Finite Element Analysis
M. Ricotta, Università di Padova
16.30 Il progetto delle selle per bici sport: test ed analisi FEM a confronto
L. Maestrelli, Studio Maestrelli
17.00 Chiusura Lavori
MODULO DI ISCRIZIONE
Details
Event Type: Seminar
Location: Bologna Italy
Date: May 26, 2009


Download PDF and Registration
Entrata libera per Soci NAFEMS
(I Soci iscritti a NAFEMS Intl. che ancora dispongono di crediti concessi per seminari)
LUOGO DELL EVENTO
Savoia Hotel Regency , Via del Pilastro 2, Bologna (uscita
tangenziale 9). Telefono +39 051 3767777 .
Possibilità di pernottamento per i partecipanti al seminario a prezzi convenzionati.
COME ARRIVARE
In Auto:
• Da Roma: autostrada A1, uscita Bologna-Casalecchio, tangenziale direzione Ancona, uscita 9 San Donato, girare a dx in Via del Pilastro e percorrere 300 mt.
• Da Milano: autostrada A1, uscita Bologna-Borgo Panigale, direzione Ancona uscita 9 San Donato girare a sx tangenziale Ancona, Donato, in Via S. Donato e a dx in Via del Pilastro e percorrere 300 mt.
• Da Padova: autostrada A13, uscita Bologna-Arcoveggio, tangenziale direzione Ancona, uscita 9 San Donato, girare a sx in Via S.Donato e a dx in Via del Pilastro e percorrere 300 mt.
• Da Ancona: autostrada A14, uscita Bologna-San Lazzaro, tangenziale direzione Milano, uscita 9 San Donato, girare a dx in Via del Pilastro e percorrere 300 mt.
In Treno:
Dalla Stazione, autobus n. 35 direzione San Donato, fermata Pilastro Vecchio.
Da Via Indipendenza, autobus n. 20 direzione San Donato, fermata Pilastro Vecchio.