NAFEMS Webinar Series
Practical CFD
*To view this webinar, you need to download an .arf player. Please click on the highlighted link to download this player (webex.com ).



Overview
Practical CFD
Many problems facing designers and engineers involve the behaviour of liquids or gases. Computational Fluid Dynamics (CFD) can be a powerful and valuable tool to predict and understand this behaviour although the complexity of the physics and mathematics involved can discourage potential users.
This webinar introduces the practical application of CFD and draws attention to some of the issues that industrial users encounter and which influence the benefits of using this tool for industrial applications. The CFD process will be outlined, as will the role of CFD within the design process to achieve the greatest benefits.
It is necessarily introductory in nature and intended to both provide a starting point for those interested in the benefits CFD could bring to their organisation and some tips for those already undertaking flow simulation and seeking to benefit still further.
Finally this webinar introduces the CFD activities of NAFEMS. This key area is currently expanding globally within the NAFEMS community and further NAFEMS webinars on topics relevant to flow simulation should be expected in the coming months.
Practical guidelines, hints and tips are given based on the presenter's industrial experience of CFD and previous work with novice users as well as with engineers and managers who want the benefits of CFD without understanding the fundamentals.
We would like to invite you to attend this webinar entitled "Practical CFD", which will be held on Thursday, October 29th , 2009 at 10:00 EDT (New York) / 14:00 GMT (London).
This webinar will address:
What is CFD
Why and when to use CFD
Terminology
The CFD process
CFD in the design process
Dangers and Perils
Confidence
Useful resources
NAFEMS and CFD
Add value to your product or company by attending this FREE webinar.
Agenda
Welcome & Introduction
Matthew Ladzinski, NAFEMS North America
Practical CFD
Althea de Souza, dezineforce
Q & A Session
Details
Event Type: Webinar
Location: Online UK
Date: October 29, 2009

Webinar Presenter
Althea de Souza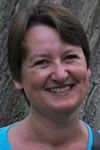 Althea has been using CFD tools to simulate industrial flows and understand product performance for nearly 15 years. After completing her PhD at the University of Portsmouth, Althea joined Pall Aerospace where she worked within the engineering design team using CFD to support the design, qualification and sales activities. Products simulated included engine-intake and hydraulic-system filters for aerospace applications; in addition to other filtration and separation products across the oil and gas, pharmaceutical, biomedical, transportation and industrial divisions. During this time she led a team of simulation and qualification engineers including several industrial placement students.
Last November Althea joined dezineforce, a company providing on-demand over-the-web or on-site integrated tools for systematic design improvement. The service couples industry standard engineering analysis and simulation software with world leading optimisation tools to streamline the design, simulation and optimisation process.
Althea has been involved with the NAFEMS CFD working group since 1997 and became chairman of the group in 2002. She is passionate about encouraging the effective use of simulation tools, especially CFD, in industry and broadening accessibility to the benefits of CFD to engineers and designers.