Finite Elements and Numerical Simulation in Forming Processes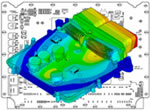 Nowadays, forming processes present some of the most challenging test cases on the field of mechanical engineering, in the development of high performance and complex parts. Seeking for comprehensive and cost effective design of formed components, numerical simulation tools based on the Finite Elements Method (FEM) are the most used by engineers in the research and industrial worlds. However, the maximized performance of simulation tools can only be achieved by mastering the technology within each finite element formulation, advanced material modelling (including anisotropic constitutive laws on sheet forming), cost-effective contact techniques and models, robust thermo-mechanical coupled description, as well as a correct prediction of the occurrence of defects during and after forming (e.g. springback, wrinkling and fracture initiation and propagation).
This seminar brought together top world-class experts in these areas of knowledge, to discuss the current state-of-the-art in numerical simulation techniques applied to industrial forming processes, and tried to establish the future guidelines in the field.
Presentations

Stefanie Reese, Institute of Applied Mechanics, RWTH Aachen University, Germany

Dolores Riera, Department of Materials Science and Metallurgic Engineering, EPSEM, UPC Barcelona Tech, Spain

Elias Cueto, Aragon Institute of Engineering Research (I3A), University of Zaragoza, Spain,

Marta Oliveira, Faculdade de Ciências e Tecnologia da Universidade de Coimbra (FCTUC), Portugal

José César de Sá, Faculdade de Engenharia da Universidade do Porto (FEUP), Portugal

Robertt Valente, Department of Mechanical Engineering, University of Aveiro, Portugal
Details
Event Type: Seminar
Location: Aveiro Portugal
Date: April 28, 2010