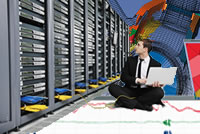 Computing technology is changing rapidly, making High Performance Computing affordable for even the smallest companies, opening up many new opportunities to use Simulation in Design. However, there are many potential barriers to the successful adoption of this emerging technology, and to understanding its implications.
This seminar provided delegates with an opportunity to learn about developments in High Performance Computing and Grid Computing with presentations from experts in the field, developers and consultants.  

Topics covered were:
Parallel CFD and FEA

Developments in Hardware, both at the detailed chip level, and also at a system level .

Cluster Management Tools .

Grid Computing and Engineering Analysis

Getting started and how to configure and size a system for your simulation needs.

New CFD Opportunities Through Advanced Modelling.


Presentations
pres_foster.pdf
HPC, Productivity and Microsoft's Technical Computing Environment TC3
Neil Foster, Microsoft
HPC in Materials Science
Lee Margetts, University of Manchester HPC Centre
pres_khartchenko.pdf
Innovation for HPC
Evgueny Khartchenko, Intel
pres_fox.pdf
The challenge of High Performance Computing, Past, Present and Future
Kevin Fox, Hewlett-Packard
pres_harding.pdf
Optimisation and Design of Experiments with a HPC Environment
Richard Harding, Dezine Force
Jaguar Land Rover High Performance Computing
Andy Searle, Jaguar Land Rover
pres_livingston.pdf
HPC - A User's Perspective
Duncan Livingston, Frazer-Nash Consultancy
pres_derson.pdf
Maximise your Computing Assets with a Unified Workload Management Environment
Chris Derson, Altair Engineering Ltd.