Webinar Presenter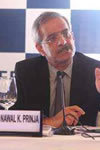 Professor Nawal K. Prinja is the technical director of UK based AMEC Nuclear. Nawal has three decades of experience in the nuclear industry. In his current role, he is responsible for managing technical capability, application of codes and standards, and serving as an advisor on technical issues.
Nawal has co-authored three books for NAFEMS, including Use of Finite Element Analysis in the Design Process, An Introduction to the Use of Material Models in FE, and How to do Seismic Analysis Using Finite Elements. Additionally, he has written articles for several technical publications. He holds a position of Honorary Professor at the School of Engineering at the University of Aberdeen, Scotland.
Nawal attributes his accomplishments to his passion for educating others and love of solving complex technical problems. He holds an honors degree in aeronautical engineering from the Indian Institute of Technology, a Master of Science degree from the University of Newcastle, and a PhD degree in applied mechanics from the University of Manchester.
Currently he is chairing the International Task Force on Harmonisation of Codes set by the World Nuclear Association's CORDEL project, he is consulted by IAEA as a technical expert and he is a member of the International Scientific Committee of SMiRT.