Engineering Simulation in the Design and Manufacture of Plastic Parts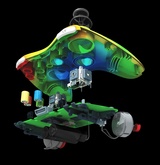 The popularity of using non-metallic materials such as engineering plastics in engineering applications is increasing. This presents many new challengers for simulation, particularly related to material characterisation.
The seminar focussed on how simulation can be used throughout the complete design process, including predicting the material properties, simulating the manufacturing process and assessing the structural integrity.
The event provided an opportunity for delegates to learn how the many modelling issues related to this topic have been addressed. It also provided a rare opportunity to network with peers who are faced with similar challenges.
Presentations
pres_sweeney.pdf
The Key Issues in Solid Polymer Deformation – Addressing them for Process Modelling using FE
John Sweeney, University of Bradford

Using Virtual Material Modelling to Define Material Characterisation
James Farrar, Wilde Analysis Ltd.
pres_barclay.pdf
Using CAE to Optimize Glass Reinforced Polymer Products
Jonathan Barclay, Ticona UK Ltd
pres_robertson.pdf
Virtual Prototyping to Reduce Weight of Blow Molded Plastic Container
Norman Robertson, ANSYS Ltd.
pres_henry.pdf
Using Simulation to Understand the Influences that Affect Plastic Part Manufacture and End Performance
Eric Henry, Autodesk Inc.
The Simulation of Plastic Parts
Mahantesh Khot, Jaguar Land Rover
pres_baumann.pdf
Development of a Database of Polymer Material Properties
Neil Baumann, Key to Metals
Details
Event Type: Seminar
Location: Warwick UK
Date: January 30, 2013

Exhibitors
Exhibition Opportunies
There is an opportunity available for your company to exhibit at the seminar, giving you maximum exposure to a highly targeted audience of delegates, who are all directly involved in simulation, analysis, and design.
Please contact Jo Davenport at NAFEMS tel: +44 (0)1355 225688 email: jo.davenport@nafems.org if you would like more information