Simulation Data Management: from Concept to Reality - Industry Experience Exchange Forum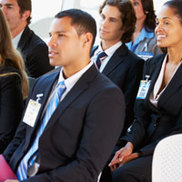 Following on from the well-attended SPDM Conference as a part of our World Congress 2013, this event continued a series of SDM dedicated events from NAFEMS.

The event focused on "Realworld" SDM experiences deployment, including success cases, failure cases, lessons learned, etc providing an exchange forum for industry.
SDM Technology
Many companies now have an urgent need to get their simulation data under control and improve their simulation processes and productivity.
Simulation Data is most meaningful when it is managed in the context of the processes used to create it. SDM is a structured information systems technology which provides the management of data objects, metadata and inter-relationships at all levels of granularity and abstraction, including design and analysis parameters, requirements, and results. SDM solutions may be integrated with other systems and databases that manage engineering and product data. SDM systems are available for managing and executing a wide range of modeling and simulation data and processes, across the breadth of engineering disciplines, supporting a heterogeneous analysis environment. Integration of design, test, and manufacturing data with modeling, simulation and analysis is widely supported.
Bringing together industrial users, technology experts, academics and software vendors alike, this dedicated event allowed industry to share their SDM experiences.
Agenda
7:00am

Registration Opens

8:00am

Symposium Opening
Rod Dreisbach, Boeing & Laura Michalske, P&G

8:10am

"Integrated, Modular Management of CAE information with the FORD Motor Company CAE PLM Solution"
Ramaling Thirunavukkarasu, Ford

8:50 am

"Cloud based high performance simulation : Euro-Pro Perspective"
Pu Zhou, EuroPro

9:30 am

"Multi-Tiered Simulation Data & Process Management"
Bob Deragisch, Parker Aerospace

10:10 am

BREAK

10:30 am

"Standardization of CAE Data Management - Collaborative CAD/CAE Integration with CAE Services" (driven by automotive)
Paul Downing, VP, Prostep

11:10 am

"Using SDM to Manage Error Reports and Increase Analyst Productivity"
JulianAdin Mann, Emerson

11:50 am

LUNCH

12:50 pm

"LOTAR" – Long Term Archiving and Retrieval
Rick Zuray, Boeing

1:30 pm

"Democratizing CAE and SPDM"
Glenn Valine & Jeffrey Wohlschlegel, GKN

2:10 pm

"Systems of Models within PLM"
Ken Rasche, Whirlpool

2:50 pm

BREAK

3:10 pm

Panel Discussion – Industry Panel Discussion

4:50 pm

Q &A – Closing Discussion

5:15pm

Adjourn


Presentations
Cloud Based High Performance Simulation - Euro-Pro_perspective
Integrated, Modular Management of CAE information with the FORD Motor Company CAE PLM Solution
Details
Event Type: Seminar
Location: Troy, MI USA
Date: November 21, 2013



Cancellation Policy
Please note NAFEMS cancellation policy for all North American events is as follows:-
Cancellation up to 3 weeks before the event date: free of charge;
Cancellation up to 1 week before the event date: 75% of registration fee non-refundable;
Cancellation up to 1 week before the event date: all seminar credits non-refundable;
No show at the event: 100% of registration fee non-refundable;
NAFEMS will discuss the possibility of transferring to an alternative event/course, however an administration charge will be applicable.
This policy is subject to change