Practicalities of Analysing Composites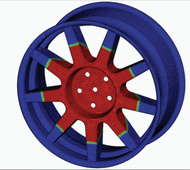 Composites are playing an increasingly important role in all areas of engineering. Light, strong, corrosion-free, composites are ideal candidates for producing novel, light-weight structures.

With this important role there are now a growing number of sophisticated numerical tools to predict the stiffness and strength, to analyse the manufacturing process, and tools that can help produce optimal designs for composite components and composite assemblies.
This seminar was for analysts who need to evolve their analysis methods to the design of composite components. Strategies and techniques being used by leading practitioners were presented.















Presentations
rohwer.pdf
Keynote Presentation: Damage and Failure Conditions for Continuous Fibre Composites
Klaus Rohwer, Retired from German Aerospace Center (DLR), Institute of Composite Structures and Adaptive Systems
giddings.pdf
Composite Process Simulation: HowTargeted Modelling Aids Streamlined Process Development
Peter Giddings, National Composites Centre, a partof the High Value Manufacturing Catapult
gambling.pdf
Composite Optimisation in Motor Sportand the Consideration of Practical Manufacturing Rules
Martin Gambling, GRM Consulting Ltd.
arnold.pdf
Robustness Simulation of Fibre Distortion observed during Press Forming of Continuous-Fibre-Reinforced Composites
Mark Arnold, Penso
knipprath.pdf
Integrating Design and Simulationof Composite Aircraft Structures: A Key Step towards a Streamlined Model Build Process
Christian Knipprath, Airbus
nixon.pdf
Scaling It Up – Multiscale Techniques for Composite Applications Stuart Nixon, Dassault Systemes UK Limited
miot.pdf
Multiscale Analysis of Composites:The Remaining Challenges
Stephanie Miot, Strategic Simulation and Analysis

hallett.pdf
High Fidelity Indentation and LowVelocity Impact Modelling for Composite Structures
Stephen Hallett, Bristol University
Details
Event Type: Seminar
Location: Coventry UK
Date: September 28, 2016


Exhibitors

There is an opportunity available for your company to exhibit at the seminar, giving you maximum exposure to a highly targeted audience of delegates, who are all directly involved in simulation, analysis, and design.

Please contact Jo Davenport at NAFEMS if you would like more information.
tel: +44 (0)1355 225688
email: jo.davenport@nafems.org


Cancellation Policy
Please note NAFEMS cancellation policy for all UK events is as follows:-
Cancellation up to 6 weeks before the event date: free of charge;


Cancellation up to 1 week before the event date: 75% of registration fee non-refundable;


Cancellation up to 1 week before the event date: all seminar credits non-refundable;


No show at the event: 100% of registration fee non-refundable;

NAFEMS will discuss the possibility of transferring to an alternative event, however an administration charge will be applicable.
This policy is subject to change.