Numerical Simulation in Vehicle Engineering
Awareness Seminar on 27th November 2017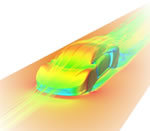 What are the new needs of the automotive industry and by what methods of numerical simulation will engineers be able to face these new elements? Join us for the 2nd NAFEMS Eastern European Seminar to;
learn about current and future trends in engineering simulation;
hear about and join in discussion on hybrid and autonomous vehicles and;
discuss how simulation can help overcome challenges in vehicle engineering
Numerical simulation is in a situation of adaptation. This seminar will focus on the trends and the new methodologies of numerical simulation to answer the new objectives of the automotive industry.
Our first NAFEMS East Europe event - 'Numerical Simulation in Product Development – NAFEMS Activities in Eastern Europe' took place in April this year, with the primary focus being how NAFEMS activities could help engineers working in numerical simulations, in the Eastern European countries. We had 60+ senior management and decision makers attend the event from different industry sectors and following the success of the seminar, this second event will be held on 27th November in Budapest.
This awareness seminar is free of charge to attend.



Agenda
09:30 Registration & coffee
10:00 Chairman's Introduction & Welcome
David Felhos, NAFEMS Eastern Europe Chairman
Simulation at Large – Test Environment for Autonomous Vehicles
László Palkovics, Ministry of State for Education
The Role of Numerical Simulations in Whole Vehicle Development at Audi Hungaria
Dániel Feszty, AudiHungaria Zrt.
Strength Analysis of the Multi-purpose IC+ Railway Coach Carbody
Bálint Matheser, MÁV-START Zrt.
11:25 Coffee break
Thermal Management of Electronic Components for the Increasing
needs of the Vehicle Industry
Anna Hidas, Budapest University of Technology and Economics
Numerical Analysis of Wireless Power Charger for Electric Vehicles
Daniel Marcsa, eCon Engineering Ltd.

Modelling, Simulation and Optimization of a Vehicle Exhaust System with
Simultaneous Heat Radiation and Free Convection
Zoltán Horváth,Széchenyi István University
13:15 Lunch break
Simulation Tests of a Non Linear Viscoelastic Fluid
Attila Czirják, University of Szeged
Trends and Challenges in CFD for the 21st Century
Lubos Pirkl, CFD Support

Advances and Challenges in Technical Modelling and Simulations for
Commercial Vehicle Systems
Árpád Veress, Knorr-Bremse Brake System Ltd.
Future Plans for NAFEMS Eastern Europe
Tim Morris, NAFEMS
15:30 General Discussion & Closing Remarks
15:50 Coffee & Seminar Close


Venue
Budapest University of Technology & Economics
Room Number 95
BME K Building
1111 Budapest,
Műegyetem rkp. 3.
Tel: +36 1 463-1111
Web: www.bme.hu
Map: https://www.bme.hu/hol-talalhato-a-bme


---
Registration:
Details
Event Type: Free Seminar
Location: Budapest Hungary
Date: November 27, 2017

Gold Sponsors


Sponsors



There is an opportunity available for your company to exhibit at the seminar, giving you maximum exposure to a highly targeted audience of delegates, who are all directly involved in simulation, analysis, and design.
Please contact Jo Davenport at NAFEMS if you would like more information.
tel: +44 (0)1355 225688
email: jo.davenport@nafems.org