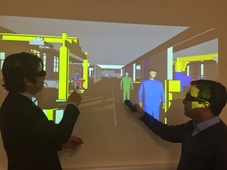 The impact of digitisation on all aspects of engineering is rapidly increasing. The new digital technologies and methods are changing the engineering processes in planning, design and building phases. Engineering is becoming more and more data-driven as a result of the technological developments in IoT, communications, controls, computing, mathematical & statistical methods. Faster innovation and adoption of digitisation therefore requires research and development across the full data lifecycle, from sensors and communications, through to controls and informatics. 

The increased capability of modern computers accelerates the use of simulation in engineering applications, not just for component design but also for modelling & optimisation of high-level engineering practices. The use of Virtual Reality and Augmented Reality are becoming part of daily life for most engineering applications.

The use of Digital Technologies has an impact on future job requirements and naturally on the education & training processes for engineers.  According to the IET Skills and Demand in Industry Report 2017, "where businesses do plan to increase digitisation of their processes, 85% believe they will have to recruit people with new skills, up-skill their present staff or do both." The UK Government and academia are responding to these new requirements and altering the way they are operating. 
This seminar was one of the activities initiated by  NAFEMS to inform the engineering community of these new technologies and developments. We created a platform where industry, academia and government organisations exchanged information. During this first event, we covered several main digital engineering topics, with presentations from experts in academia and industry. 

We will organise follow-up activities on specific topics, to create more detailed discussions on:-
Sensors & Communications

Data Driven Methodologies / Big Data

Cloud Computing / Edge Computing / Cyber Security

Artificial Intelligence / Deep Learning / Pattern Recognition / Machine Learning

Virtual Reality / Augmented Reality

Digital Manufacturing / Additive Manufacturing  Simulation / Automation / Optimisation

Social Aspects of Digital Engineering / Impact on Jobs, Learning and Skills

Presentations
mcgregor.pdf
What Industry 4.0 can do for the UK, and how UK Research & Innovation is working to achieve this?
Lynne McGregor, Innovate UK
tiwari.pdf
Digitisation of Skill-intensive Manufacturing Processes
Ash Tiwari, University of Sheffield
huertas.pdf
The Digital Journey for Manufacturers
Lina Huertas, Manufacturing Technology Centre
Shaping Asset States and MRO Processes to Jointly Optimise Operations
Israel Beniaminy, GE Global Research                  
Connected Technologies for Digital Lifecycle Management: From Design to Production 
Darek Ceglarek, University of Warwick
visrolia.pdf
The Role of Simulation in Digital Manufacturing at the HVM Catapult                            Amit Visrolia, National Composites Centre
[ Please contact jo.davenport@nafems.org for access ]
Engineering and Business Practices Transformation with Digital Twin and Predictive Engineering Analytics
Pavel Goncharov, Siemens AG
clark.pdf
Searching for Cyber Security
John Clark, University of Sheffield

chalmers.pdf
Authentic Virtual Experiences
Alan Chalmers, University of Warwick 
elliott.pdf
Using AR and VR in Industry
Dave Elliott, Holovis