The Impact of Digitisation on Engineering and Manufacturing Simulation
1-Day Seminar on Wednesday, 16th May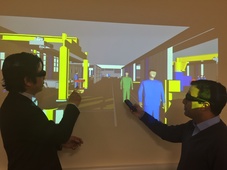 The impact of digitisation on all aspects of engineering is rapidly increasing. The new digital technologies and methods are changing the engineering processes in planning, design and building phases. Engineering is becoming more and more data-driven as a result of the technological developments in IoT, communications, controls, computing, mathematical & statistical methods. Faster innovation and adoption of digitisation therefore requires research and development across the full data lifecycle, from sensors and communications, through to controls and informatics.

The increased capability of modern computers accelerates the use of simulation in engineering applications, not just for component design but also for modelling & optimisation of high-level engineering practices. The use of Virtual Reality and Augmented Reality are becoming part of daily life for most engineering applications.

The use of Digital Technologies has an impact on future job requirements and naturally on the education & training processes for engineers. According to the IET Skills and Demand in Industry Report 2017, "where businesses do plan to increase digitisation of their processes, 85% believe they will have to recruit people with new skills, up-skill their present staff or do both." The UK Government and academia are responding to these new requirements and altering the way they are operating.
This seminar is only one of the activities initiated by NAFEMS to inform the engineering community of these new technologies and developments. Our aim is to create a platform where industry, academia and government organisations can exchange information. During this first event, we will cover several main digital engineering topics, with presentations from experts in academia and industry. The seminar will also include overview presentations from governmental organisations, such as Innovate UK and HVM Catapult.

We will organise follow-up activities on specific topics, to create more detailed discussions on:-
Sensors & Communications

Data Driven Methodologies / Big Data

Cloud Computing / Edge Computing / Cyber Security

Artificial Intelligence / Deep Learning / Pattern Recognition / Machine Learning

Virtual Reality / Augmented Reality

Digital Manufacturing / Additive Manufacturing Simulation / Automation / Optimisation

Social Aspects of Digital Engineering / Impact on Jobs, Learning and Skills

Agenda
09:00 Registration
09:30 Chairman's Introduction & Welcome
Nadir Ince, GE Power Ltd.
What Industry 4.0 can do for the UK, and how UK Research &
Innovation is working to achieve this?
Lynne McGregor, Innovate UK
Digitisation of Skill-intensive Manufacturing Processes
Ash Tiwari, University of Sheffield
The Digital Journey for Manufacturers
Lina Huertas, Manufacturing Technology Centre
Shaping Asset States and MRO Processes to Jointly Optimise
Operations
Chris Johnson, GE Global Research
12:00 Lunch break
13:00 Connected Technologies for Digital Lifecycle Management: From Design to Production
Darek Ceglarek, University of Warwick
The Role of Simulation in Digital Manufacturing at the HVM Catapult Amit Visrolia, National Composites Centre
Engineering and Business Practices Transformation with Digital Twin and Predictive Engineering Analytics
Pavel Goncharov, Siemens AG
Searching for Cyber Security
John Clark, University of Sheffield

Authentic Virtual Experiences
Alan Chalmers, University of Warwick
Using AR and VR in Industry
Dave Elliott, Holovis
16:20 General Discussion & Closing Remarks
16:40 Seminar Close
Venue
DoubleTree by Hilton Hotel Coventry

Paradise Way
Walsgrave Triangle
Coventry CV2 2ST
Tel: +44-2476-603000
Website
Directions
Ideally located just off the M6, the DoubleTree by Hilton Coventry is just 10 minutes from the city centre.
With easy access to several major motorways, you have easy access to Birmingham and Leicester.
A bus stop, serviced by the number 8 bus, is located outside the hotel.
10 minutes from Coventry City Centre, just off the M6
Newly refurbished, modern guestrooms with LCD TV, work desk and complimentary WiFi
On-site parking, British cuisine dining and bar serving Starbucks

LivingWell- pool, sauna, steam room and gym
Purchasing Details
Members Price
£175 | $245 | €201
---
Non-Members Price
£250
| $350 | €288
---
Order Ref: UKDIGITAL18
Event Type: Seminar
Location: Coventry UK
Date: May 16, 2018
Member Places
Free places are available on this event for NAFEMS member companies, subject to membership type and remaining credits. Please login to request free places.

In partnership with


Innovate UK drives productivity and economic growth by supporting businesses to develop and realise the potential of new ideas.

We connect businesses to the partners, customers and investors that can help them turn ideas into commercially successful products and services and business growth.

We fund business and research collaborations to accelerate innovation and drive business investment into R&D. Our support is available to businesses across all economic sectors, value chains and UK regions.

Innovate UK is part of UK Research and Innovation.For more information visit www.ukri.org or www.innovateuk.ukri.org.

Sponsors
There is an opportunity available for your company to exhibit at the seminar, giving you maximum exposure to a highly targeted audience of delegates, who are all directly involved in simulation, analysis, and design.

Please contact Jo Davenport at NAFEMS if you would like more information.
tel: +44 (0)1355 225688
email: jo.davenport@nafems.org