About the Speaker
Current position / tasks: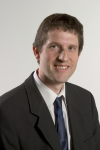 Dr. David Hunt is a Senior Computational Physicist and manages Research, Design and Innovation at FloMASTER, a System CFD product in Mentor Graphics' Mechanical Analysis Division (Siemens Company). 

David oversees Research and Design activities to enhance the simulation capability for gas turbine applications.
David works on developing capabilities to support Model Based Design and Synthetic Design and Design Optimisation. A key part of this work has been integrating 3D CFD with System CFD tools.
David has worked on novel algorithms to improve numerical stability within fluid simulations that allow robust simulation of components with complex physics and multiple armed components.
Biography 
David has worked extensively in mathematical modeling across a range of industries from decision support systems in the rail industry through to attitude control systems in the space sector.
David worked for many years in the Research Group at the Aircraft Research Association on 3D CFD for external aerodynamics including:
Very Large Eddy Simulations on shock wave / turbulence interactions

Modeling external turbulent flows in aerospace and marine 

Drag prediction• Quasi-unsteady methodologies for store release and propeller simulations

Flow-Feature Extraction