Talking Shop with Tony Abbey
Episode 3 - Free Body Diagrams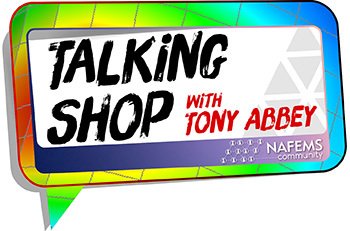 NAFEMS is talking shop with Tony Abbey on a range of topics relevant to, and suggested by, the engineering analysis community.
We kicked off each session with a brief presentation on the subject from Tony, and thereafter, open up the floor for written questions and thoughts from you, the audience.
The sessions was moderated, allowing the host to put your questions and comments direct to Tony, and we also made each episode live on our youtube and vimeo channels, as well as sharing on social media.
Episode 3 - Free Body Diagrams
Free body diagrams are used in structural analysis to try to reduce the problem to its simplest description. Where does the load get applied and where does the load get reacted? Free body diagrams can be created for the overall assembly and for each component in that assembly – hence tracking the load path.
This seems like a straightforward procedure – but in fact it is surprisingly easy to get things very wrong!
In this presentation Tony showed a very early example from his stress office days, and talk about an industrial example that had tragic consequences.
Here is your chance to learn some new ideas, pass on tips, or generally join in the discussion!