Talking Shop with Tony Abbey
Episode 5 - Nonlinear Buckling – Why do we Cheat in FEA?
Friday, 1st May 2020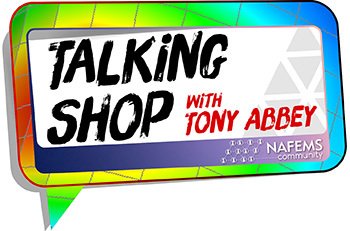 NAFEMS is talking shop with Tony Abbey on a range of topics relevant to, and suggested by, the engineering analysis community.
This free series is open to everyone, and we hope you can join us online.

We'll kick off each session with a brief presentation on the subject from Tony, and thereafter, open up the floor for written questions and thoughts from you, the audience.
The sessions will be moderated, allowing the host to put your questions and comments direct to Tony, and we'll also make each episode live on our youtube and vimeo channels, as well as sharing on social media.
Registration is quick and easy, and we hope to see you there!
Episode 5 - Nonlinear Buckling – Why do we Cheat in FEA?
We asked Tony about the curious title for this week's Talking Shop. His reply?
"The first time I did a nonlinear buckling analysis, I set up a cylinder model, applied the load – and waited. What a letdown! The cylinder just compressed, went way past the yield stress with no buckling in sight ...

The head of nonlinear development was in the next cubicle, so I quizzed him. He just turned to me and explained that we have to cheat."
In this quick overview of nonlinear (and linear) buckling Tony explains the wisdom behind these words.
Is it really cheating?