CAASE21 - Conference on Advancing Analysis & Simulation in Engineering
CAASE21 - Conference on Advancing Analysis & Simulation in Engineering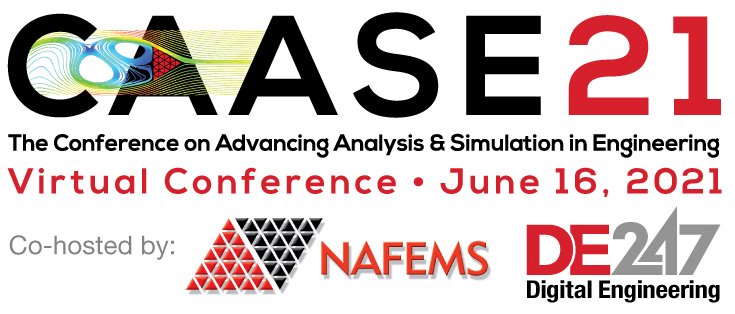 NAFEMS Americas and Digital Engineering (DE) have teamed up (once again) to present Virtual CAASE21, the Conference on Advancing Analysis & Simulation in Engineering, on June 16th!
This free, one-day event will cover a wide range of topics, addressing important aspects of engineering analysis and simulation in the following 5 key themes:
Implementing Autonomous Technologies
Keynote: Challenges of Fully Integrating Sensor, Vehicle ADS, and 5G Technologies to Achieve Reliable and Safe Transportation Systems (Professor Cing-Dao (Steve) Kan, Director, Center for Collision Safety and Analysis (CCSA) & Professor Duminda Wijesekera, Acting Chair, Cyber Security Engineering Department, George Mason University)

 
Simulation-Driven Design
Stochastics, Robust Design and Systems Engineering to Support Simulation Driven Design (Dr. Alexander Karl, Associate Fellow - Robust Design and Systems Engineering, Rolls-Royce Corporation)

 
Verification & Validation
Towards Demonstrating Simulation Credibility in Industry: Are We There Yet? (Jakob Hartl, PhD student, Aerospace Systems, Purdue University)

 
Manufacturing Processes & Additive Manufacturing
Supporting the Simulation Community by Building a Broad-Based Additive Manufacturing Infrastructure (Lyle E. Levine, Senior Physicist, National Institute of Standards and Technology (NIST))

 
Business Strategies & Challenges
Digital Twins: From Physics-Based Modeling to Scientific Machine Learning (Karen E. Willcox, Director of the Oden Institute for Computational Engineering and Sciences, University of Texas at Austin)
Please click here to view the agenda and to register directly on DE's website. (Note: You will be required to complete a form, but access is free).